Peugeot 307 review (2001-2007)
Focus-rivalling Peugeot is very good at being average, but lacks the magic to challenge class-leaders.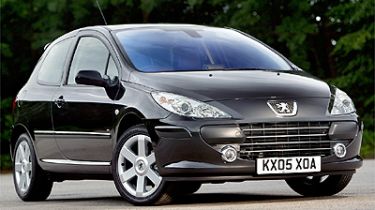 Driving: A smooth ride characterises the 307. It soaks up bumps with composure and has a long-legged, soothing feel at speed. Handling is OK but the car's strange MPV-like cabin makes it hard to place with accuracy; it feels bigger than it is, though there is talent there if you concentrate. Petrol engines are quiet unless they're worked hard, which they need to be; diesels cost more but are faster in real-world conditions. The 180bhp 2.0-litre sounds like a fun range-topper but it's not, demanding unrealistic revs and suffering a torque deficit.
Marketplace: Peugeot offers some powerful engines with the 307 - even 1.4-litre and 1.6-litre units are useful - but they need to be as it's a weighty car. Diesels suit it best, with both 1.6-litre and 2.0-litre HDi units providing sophisticated go with fine economy. Unusually for a French car, the trim line-up is straightforward; E, S, SE, XSi and range-topping Feline. S variants offer the best balance of price and kit, though XSi trim is pleasingly sporty. The 307 offers three-and five-door hatchback bodystyles, plus an awkward-looking CC coupe-cabriolet and an accommodating estate. The latter is also offered as a pointless SW - billed as a seven-seater, the reality is those two extra pews cost extra, and even children will complain once sat inside.
Owning: The 307 feels well-built, with quality detailing and plush trims. The biggest gripe will be rear passenger's comfort. The 307 has an almost unacceptable lack of rear legroom once the driver has found a comfortable seating position. It's reasonably well-stocked too though only upper-range models offer ESP as standard. Unusually, it hasn't been Euro-NCAP crash-tested but, more predictably, retained values are average, though the market has taken quite a fancy to SW and CC variants. Service intervals are lengthy and insurance notably low, though fuel economy of 1.6-litre petrol models is off the pace. The diesels, naturally, are excellent.
Engines, performance and drive
0
MPG, CO2 and Running Costs
0
Interior, design and technology
0
Practicality, comfort and boot space
0