Porsche Cayenne Turbo vs Cayenne Turbo S
In this track battle the Porsche Cayenne Turbo takes on the Cayenne Turbo S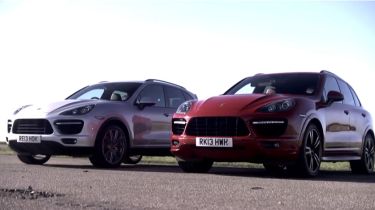 In this video we pitch the Porsche Cayenne Turbo against its highly-tuned alternative - but which will come out on top?
The normal Porsche Cayenne Turbo boasts a 4.8-litre V8, with 493bhp and 700Nm of torque. It can reach 0-62mph in just 4.7 seconds, too.
On the other hand, the Cayenne Turbo S will cost you £20,460 more than the standard car. But for that, you'll get an extra 49bhp and 50Nm of torque. Top speed also increases to 175mph.
The Cayenne Turbo S also gets extra features such as active torque vectoring, and a clever anti roll system. All this does make the standard Cayenne Turbo feel somewhat lacking, especially around the track.
You can really feel the extra power that comes with the Cayenne Turbo S, though. In the corners, the anti roll bar system helps to improve body control, while traction is also quite decent.
But even in the standard Porsche Cayenne Turbo, body control is quite good, especially considering it's a big SUV. There's a nice, natural feeling to the car and it's quite a simple car to drive.
The standard car finished a flying lap in 1 minute 14.1 seconds. The Cayenne Turbo S, meanwhile, managed to complete its flying lap in 1 minute 13.50 seconds.
Watch the video review and tell us in the comments below which you prefer.