Tyre test 2023: results by category
An in-depth look at the scoring charts for our 2023 tyre test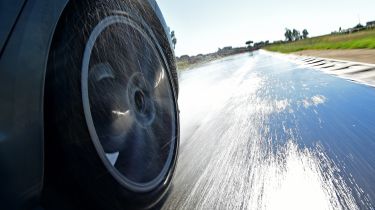 Our tests are often close and, behind our champion, it was particularly tight. A tweak in weighting would mean several tyres would swap places, so it is key to look at the percentage ratings rather than just overall position. It is hard to separate second through to eighth or ninth, so your choice will depend on your individual preferences.
In the last two spots we have two makers we know can do better with tyres that are probably due to be replaced. Hankook needs to do its usual development job on the Prime 4. A test of part-worn tyres would better suit the Primacy 4+ but it still works from new. Kumho needs to work on its wet performance, while fuel economy must be a concern for Vredestein. No such worries for Goodyear, but it has lost its overall advantage. 
Development has much improved the Pirelli Cinturato P7, while the Bridgestone T005's last hurrah showed it's still number one for fuel economy. Joint runner-up spot for Toyo was a welcome surprise for a tyre that gets a lot right.
Winner: Continental PremiumContact 7
We knew the Continental was good, so it was no surprise that it won this test, but the margin was surprising. This latest PremiumContact is back at the front of the pack, following some below-par performances for its predecessor. It might be there for some time, too.
Buy the Continental PremiumContact 7 from Blackcircles.com
Results by Category
| | | |
| --- | --- | --- |
| Overall |   |   |
| 1st | Continental | 100% |
| =2nd | Bridgestone | 98.9% |
| =2nd | Toyo | 98.9% |
| 4th | Pirelli | 98.6% |
| =5th | Goodyear | 98.5% |
| =5th | Vredestein | 98.5% |
| 7th | Kumho | 98.4% |
| 8th | Michelin | 98.3% |
| 9th | Hankook | 98.0% |
| 10th | Falken | 97.4% |
| 11th | Maxxis | 97.1% |
| Price |   |   |
| 1st | Kumho | £66.44 |
| 2nd | Maxxis | £68.00 |
| 3rd | Toyo | £68.80 |
| 4th | Bridgestone | £81.95 |
| 5th | Falken | £83.42 |
| 6th | Hankook | £84.42 |
| 7th | Goodyear | £86.41 |
| 8th | Vredestein | £90.80 |
| 9th | Pirelli | £91.32 |
| 10th | Continental | £97.25 |
| 11th | Michelin | £111.56 |
| Wet braking |   |   |
| 1st | Continental | 100% |
| =2nd | Hankook | 96.0% |
| =2nd | Pirelli | 96.0% |
| =4th | Kumho | 95.5% |
| 5th | Michelin | 95.5% |
| 6th | Goodyear | 94.0% |
| 7th | Toyo | 93.3% |
| 8th | Vredestein | 92.6% |
| 9th | Bridgestone | 92.2% |
| 10th | Maxxis | 90.8% |
| 11th | Falken | 90.4% |
| Wet handling |   |   |
| 1st | Continental | 100% |
| 2nd | Vredestein | 99.4% |
| 3rd | Goodyear | 98.9% |
| 4th | Toyo | 98.8% |
| =5th | Bridgestone | 98.5% |
| =5th | Michelin | 98.5% |
| 7th | Falken | 98.2% |
| =8th | Hankook | 98.1% |
| =8th | Pirelli | 98.1% |
| 10th | Kumho | 97.7% |
| 11th | Maxxis | 96.6% |
| Wet cornering |   |   |
| 1st | Kumho | 100% |
| 2nd | Continental | 99.8% |
| =3rd | Falken | 99.5% |
| =3rd | Vredestein | 99.5% |
| 5th | Toyo | 99.3% |
| 6th | Hankook | 98.8% |
| 7th | Goodyear | 98.7% |
| 8th | Bridgestone | 98.3% |
| 9th | Pirelli | 98.1% |
| 10th | Maxxis | 98.0% |
| 11th | Michelin | 97.7% |
| Rolling resistance |   |   |
| 1st | Bridgestone | 100% |
| 2nd | Goodyear | 85.2% |
| 3rd | Toyo | 78.5% |
| 4th | Michelin | 76.3% |
| 5th | Continental | 74.2% |
| 6th | Hankook | 73.6% |
| 7th | Pirelli | 73.1% |
| 8th | Kumho | 71.6% |
| 9th | Falken | 70.7% |
| 10th | Maxxis | 69.8% |
| 11th | Vredestein | 67.7% |
| Curved aquaplaning |   |   |
| 1st | Vredestein | 100% |
| 2nd | Maxxis | 93.6% |
| 3rd | Continental | 92.4% |
| 4th | Michelin | 92.3% |
| 5th | Falken | 87.1% |
| 6th | Pirelli | 86.6% |
| 7th | Bridgestone | 86.4% |
| 8th | Goodyear | 86.2% |
| 9th | Toyo | 85.7% |
| 10th | Kumho | 78.4% |
| 11th | Hankook | 70.8% |
| Straight aquaplaning |   |   |
| 1st | Vredestein | 100% |
| =2nd | Falken | 95.5% |
| =2nd | Michelin | 95.5% |
| 4th | Continental | 94.6% |
| 5th | Maxxis | 94.4% |
| 6th | Bridgestone | 94.3% |
| 7th | Pirelli | 93.9% |
| 8th | Toyo | 93.7% |
| 9th | Goodyear | 93.5% |
| 10th | Kumho | 93.2% |
| 11th | Hankook | 89.0% |
| Dry braking |   |   |
| 1st | Continental | 100% |
| 2nd | Toyo | 99.6% |
| 3rd | Bridgestone | 99.3% |
| 4th | Kumho | 98.2% |
| 5th | Pirelli | 97.4% |
| 6th | Hankook | 96.7% |
| 7th | Vredestein | 96.4% |
| 8th | Maxxis | 95.2% |
| 9th | Michelin | 95.1% |
| 10th | Falken | 94.6% |
| 11th | Goodyear | 94.4% |
| Dry handling |   |   |
| 1st | Kumho | 100% |
| 2nd | Toyo | 99.7% |
| 3rd | Vredestein | 99.5% |
| =4th | Hankook | 99.4% |
| =4th | Continental | 99.4% |
| =4th | Goodyear | 99.4% |
| 7th | Pirelli | 99.0% |
| 8th | Bridgestone | 98.9% |
| 9th | Michelin | 98.8% |
| 10th | Falken | 98.5% |
| 11th | Maxxis | 98.1% |
| Cabin noise |   |   |
| 1st | Pirelli | 100% |
| 2nd | Continental | 99.7% |
| 3rd | Falken | 99.6% |
| 4th | Kumho | 99.4% |
| 5th | Bridgestone | 99.3% |
| =6th | Goodyear | 99.2% |
| =6th | Maxxis | 99.2% |
| 8th | Toyo | 99.0% |
| 9th | Michelin | 98.7% |
| 10th | Hankook | 98.5% |
| 11th | Vredestein | 98.1% |