Renault Clio Renaultsport Trophy leaks ahead of Geneva reveal
Pics of Renault's Clio RS Trophy leak online ahead of Geneva 2015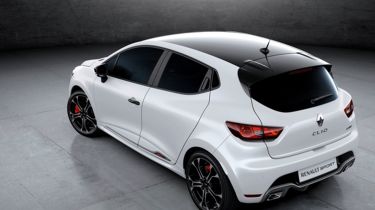 Renault's latest Renaultsport hot hatch product offensive has leaked out ahead of its Geneva Motor Show reveal. Images of what looks like the Renault Clio Renaultsport Trophy hot hatchback appeared online before the official launch.
Renault has kept details of its Renaultsport plans for the 2015 Geneva show well under wraps with only a hint that a new model was on the way and a teaser image of a new alloy wheel design released prior to the show. Now, however, we can see what looks like a hotter Trophy edition of the Clio Renaultsport hatchback shot from the rear in plain white.
Specification details are thin on the ground at present, but there is talk that the more hardcore Trophy variant of the Clio Renaultsport could be the first to feature a manual gearbox in place of the standard paddle-shift auto.
Under the bonnet will be the same 1.6-litre turbo engine as in the standard Clio RS, but there's likely to be a power upgrade from the regular car's 197bhp. With the standard launch control, the Clio can sprint from 0-60mph in just 6.7 seconds – and the Trophy will probably go faster than that.
Get more news from the Geneva Motor Show 2015 here...