New Renault Twingo vs classic Renault 5
We get exclusive access to new Renault Twingo as it meets the legendary Renault 5
The new Renault Twingo is a real mix of classic French small car thinking and cutting-edge tech, according to the company's exterior design boss Csaba Wittinger. We caught up with the Hungarian designer to find out how it's the classic Renault 5, not previous Twingos, that have inspired the new rear-engined, rear-wheel-drive city car.
Wittinger is the senior exterior designer for the new Twingo, which has been a long time in the making, and even longer in the inspiration.
He told us: "I joined the project in 2010, but it already had some pre-work on the architecture, and at that point we knew the car would be rear-engined and rear-wheel drive." Renault has an illustrious history of filling its city cars' back seats with an engine: there was the mid-engined Clio V6, and the wild Renault 5 Turbo before it.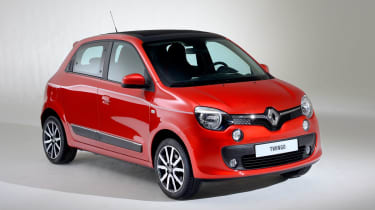 And it's the latter car – not the 'one box' original Twingo, which was never sold in right-hand drive – that's inspired the new Twingo, due in UK showrooms later in the summer.
Wittinger points to the angle of the tailgate and the shape of the C-pillar as classic 5 cues, plus the tiny overhangs and space-efficient cabin, allowed by the Twingo's rear-engined layout.
There are more subtle cues, hinting at the car's rear-drive set-up. "We have the wider rear 'hips', which on the 5 Turbo were flat [to cover the wider track]. At first there were [engine air] intakes in the rear like a sports car, but the engineers worked on the cooling so they were not needed," said Wittinger. Instead, cosmetic 'vents' around the rear number plate have survived.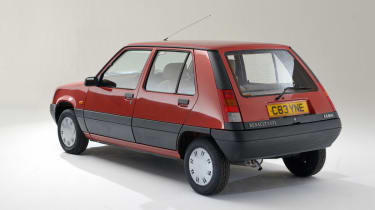 There's a hint of negative rear camber around the wider back tyres, too. "Engineering requires it, but I say it looks like a race car," Wittinger told us. "I tried to design a car which is neither masculine nor feminine. Too many small cars have aggressive faces – it was a requirement that the Twingo look friendly."
Before the Twingo, Wittinger was responsible for Renault's budget sub-brand, Dacia. So, was this a chance to express himself? "Sure, [Renault] has more heritage, plus this car has to be more chic and lead the trend," he said.
In the metal, the Twingo looks fantastic, and if you want an extra style hint, its designer assures us that it suits white paint best.