Renault Twizy windows for £295
The electric Renault Twizy now gets the option of zip-on windows for £295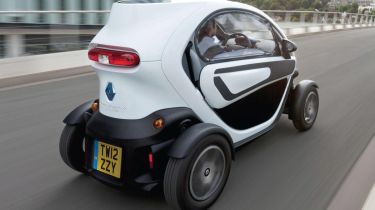 In preparation for winter, the electric Renault Twizy now comes with the option of a pair of zip-on windows, costing £295.
The zip-on windows come in two parts: a rigid metal frame which attaches to the Twizy's plastic scissor door, and a transparent plastic window which zips onto the frame with a zip.
The Twizy's door handles are located on the inside of the doors . When the windows are fitted, these can be accessed through an opening in the window, while the window itself has a pair of vents in it to ensure the windscreen doesn't mist up.
Renault is keen to stress that the new windows require no tools to fit, and can be easily removed. What's more, the plastic has been tested to ensure that it can withstand UV light, corrosion and cold temperatures.
The window set will be available from UK Renault dealers from the end of November.