Renault Twizy vs rivals
Can the new Renault Twizy revolutionise urban commuting? We test it against three very different modes of transport to find out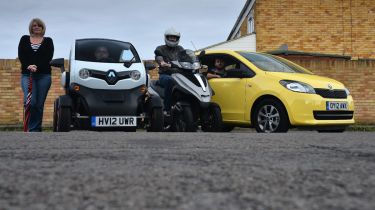 The Twizy is Renault's bold attempt to redefine 21st century urban driving. And it's one of the most talked about cars of the year, attracting numerous stares, questions and reactions from passers-by.
At just over two metres long, this two-seat fully electric vehicle starts at £6,690, with our range-topping Technic £7,400. It's powered by a 17bhp electric motor, claims a range of 62 miles and can be charged in three and a half hours from any 230V socket.
So is it a glimpse into our motoring future? And could it be the first of many basic electric commuter vehicles? Most importantly, does it work in the real world? We put it to the ultimate commuting test: going from Cobham, Surrey, to our central London office – a 25-mile route with almost every type of road and traffic condition you're likely to encounter on a normal day.
We wanted to find out how the electric Renault fared in the key commuting criteria of cost, comfort, journey time and driving enjoyment. But we also wanted to give it some competition, so we picked three very different modes of commuting transport.
Taking on the Twizy is our reigning Car of the Year and the best affordable city car you can buy: the £7,630 entry-level Skoda Citigo. The £5,699 Piaggio Yourban is a funky three-wheeled scooter you can ride on a car licence, plus we tried London's public transport options, too. So, which one emerged as the king of the rat race?
Verdict
We set out to put the Renault Twizy through a proper, real-world test. So is it the perfect solution to the urban commuting problem?
In short, no. It's well engineered, clever and fun. In a Utopian city filled with other Twizys, it would be great. But it's not able to nip through traffic like the scooter and can't rival the space, comfort and enclosed cabin of the Skoda. Still, it's great for short trips in decent weather. Despite the bone-crushing ride, it's a lot of fun to drive.
Yet it finishes second to the Citigo. Parking and the Congestion Charge make driving costly in London, but for elsewhere, the only vehicle here capable of carrying four in comfort over a theoretically limitless distance is our winner.
The scooter is the ultimate traffic-beater and great value, but it's not for everyone, while the cost, convenience and speed of public transport vary greatly depending on your personal circumstances. And it can't give you the independence of the other options here.
Winner: Skoda Citigo ★★★★★
Proving basic cars can be great, the Citigo is fun to drive, frugal and cheap to run. It's exceptionally well built and costs only £940 more than the Twizy. Even taking into account fuel and tax bills, that's a clear win for the baby Skoda.
We admire Renault for making the Twizy, and it's a great concept. But it's held back by its limited range and the ongoing cost of battery hire, as well as its ride and practicality limitations.
The scooter is undeniably the best way to get through traffic, plus cheap to run. But it's also the most exposed to the elements. Even though you only need a car licence, we'd recommend doing your CBT first.
The speed, price and ease of public transport vary depending on where you live and work. For our commute, it was a slow and costly choice. Generally, it doesn't offer the privacy, comfort and flexibility of your own wheels.