Amazon and Rivian team up for new electric delivery van
Amazon aims to have 10,000 Rivian made electric delivery vans on the road by 2022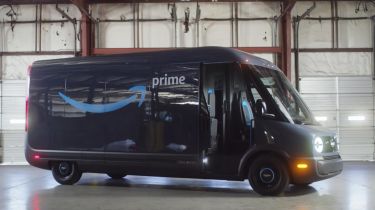 Amazon has revealed a new, pure-electric delivery van designed and built in collaboration with American electric vehicle manufacturer Rivian.
The retail giant aims to have 10,000 of the new electric vans driving delivery routes by the end of 2022. These will be joined by a further 90,000 vans by 2030, as part of a $5 billion (around £3.8 billion) investment into the new fleet.
Amazon and Rivian are yet to announce any technical specifications for the delivery van such as its performance, carrying capacity and range. But some on-board technology has been detailed. 
The electric van will feature a 360-degree camera system linked to a large infotainment system, similar to the unit found in a Tesla Model 3. Drivers will also get a "suite of highway and traffic assist technology."
The van is pre-loaded with Amazon Alexa voice control, and can provide live weather updates and hands-free navigation.
For practicality there's a three tier shelving system, a sturdy bulkhead door and a roller shutter for the van's rear. Also, in the event of an accident, the driver's door is reinforced to protect the cabin.
The front of the van has been designed with a large glasshouse and a retro-futuristic fascia similar to that of the Honda e city car. The wheels have been pushed out as far into the van's footprint as possible, to aid manoeuvrability and maximise space on board. 
The purchase of this new electric van fleet forms a key part of Amazon's new climate change plan, which will see the online retail giant source 80 percent of its energy from renewable sources by 2024. This figure is scheduled to rise to 100 percent by 2030, which falls neatly in-line with the deployment of the company's remaining electric fleet.
Back in February, Amazon led a $700 million (roughly £540 million) investment round in Rivian. Rivian has also received significant investment from Ford, as part of a deal that will see the two automotive firms collaborate on a new electric vehicle.
Rivian has already announced two models of its own – an SUV called the R1S and a pick-up truck called the R1T, the platform for both of which will likely be used for the new electric van. The firm is also planning a rally car-inspired design for its next model.
What do you make of this record-breaking EV order? Let us know in the comments below...