'Headlines of Saab's return highlight an alarming trend'
Like so much else in 2017, the suggestion that Saab is set to return is misleading, says Graham Hope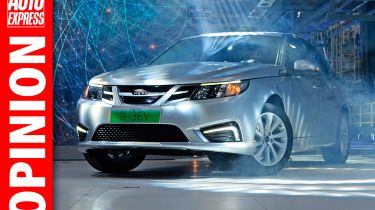 'Tis the season of goodwill and only the most hard-hearted among you will fail to raise a flicker of interest at the news Saab's 9-3 has been reborn as an all-electric model being built in Tianjin, China under the NEVS brand.
There are plenty of Saab aficionados still around, and any story that conjures up even the faintest of hopes that their much missed favourite company is on its way back is generally lapped up.
• Chinese NEVS brand announces EV 9-3
Let's be clear, though: this is not the return of Saab, as was trumpeted by some media outlets. It's NEVS using familiar tech to create new models for emerging markets. Turkey could follow China.
In many ways, though, the story summed up an alarming trend we've seen in 2017 – misleading reporting. Donald Trump has ensured "fake news" has become part of the popular lexicon, and while automotive reporting isn't quite at that stage yet, it's been disturbing to see how some stories have become strangely skewed over the past 12 months.
We've seen misinterpretation, when Volvo's announcement of its electrification strategy from 2019 onwards was assumed in some quarters to mean it was ditching combustion engines. Not so.
We've seen opportunistic manipulation, not least when some media operations used the UK's proposed 2040 'combustion engine ban' to ram home their current vociferous anti-diesel agenda.
And in this most recent Saab story, we've seen titillation, where cunningly crafted headlines are designed to create the sort of story some people want to read rather than one based in truth.
As with the car industry, the media landscape is changing fast. But amid all the confusion and misinformation, you have our word that Auto Express will always try to get the heart of the story to ensure you know what's really going on.
Do you think confusion in the media is having an effect on the car industry? Tell us what you think below…