SEAT Alhambra MPV to get range of updates
The venerable SEAT Alhambra remains part of the Spanish brand's plans and will be updated to keep it fresh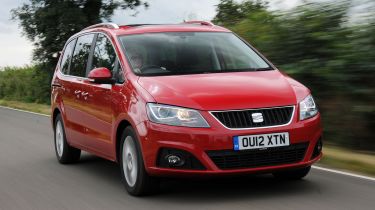 The SEAT Alhambra will get technology upgrades to keep it up to date, as the existing version of the Spanish MPV approaches its ninth year of life, Auto Express can reveal. 
The future of the venerable people-carrier, developed in conjunction with the Volkswagen Sharan, has been in increasing doubt, not least because SEAT now has a seven-seat SUV in the form of the Tarraco.
However, speaking at the launch of the flagship SUV, SEAT's head of research and development, Dr Matthias Rabe, told Auto Express that the Alhambra remains a part of the company's plans. Adding that the firm is planning updates to keep it fresh and satisfy existing customers who want to renew.
"The Alhambra is part of our range and it continues to be so," Rabe said. "The Tarraco doesn't change that. Yes, the Tarraco is a seven-seater, and for occasional use they are excellent, but if you're using seven seats every day then the Alhambra still makes sense.
"The car has a big fan base and I think sales have been steady or even improving a little bit recently, so we want to keep those customers happy. We're working on some ideas to keep the car fresh and we'll certainly be putting new technology on it to do that - things like the latest generation of adaptive cruise control, for example." 
Rabe declined to say if a new generation of Alhambra is under development, although it's considered unlikely, given the global collapse of the MPV market. There's no confirmation yet from SEAT on whether the updates will be introduced as optional extras, or if they'll be part of a late-life face-lift for the Alhambra.
Is there still a future for MPVs? Let us know your thoughts below...