What is Skoda SmartLink?
Many of Skoda's most recent models are fitted with SmarkLink, but what is it and what does it do?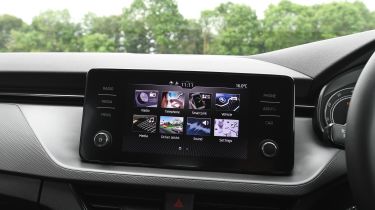 With touchscreens now prevalent in almost every new car on sale, it makes it much easier for manufacturers to integrate mobile phone technology into their in-car systems. By doing so they can take advantage of the smartphone's sophistication, allowing users to access a selection of apps through their phone. Skoda's approach to this began with the MirrorLink system, which as the name suggests, mirrors the screen of your Android smartphone (and some tablets) on the vehicle's display.
In May 2015 the Czech manufacturer introduced a more sophisticated system called SmartLink. The key difference with SmartLink is that it offers all the smartphone integration systems together; MirrorLink, Apple CarPlay and Android Auto. The main advantage of this approach is that whatever smartphone you have, a Skoda car equipped with SmartLink will have a means of connecting to it.
For iPhone users, CarPlay is the only means of connection other than Bluetooth audio, but many Android users have the choice of MirrorLink or Android Auto. The latter system is more similar to CarPlay in that it is a 'closed' system, with dedicated software for features such as navigation and voice control, that displays information in a formatted design.
MirrorLink is an open-source system, so the list of compatible apps that you can use in your car is increasing all the time and MirrorLink displays the available apps in tiled form. One important point to note is that MirrorLink's open-source nature means that its functionality will continue to change over time, and the Car Connectivity Consortium responsible for managing it is considering the possibility of allowing vehicle data to be shared for usage-based insurance policies.
Connecting your smartphone to a Skoda fitted with SmartLink is simple; using a USB connector will provide an instant connection and keep your phone charged at the same time, alternatively you can search for your phone via your car's Bluetooth or vice versa. If you are connecting an Android phone you may have the option of choosing to connect via MirrorLink or Android Auto - you can do this by selecting one or the other through the screen menus.
At present, SmartLink is fitted to Skodas with the Columbus, Bolero and Amundsen infotainment systems but it cannot be retro-fitted to models without these systems installed.
Have you ever used Skoda SmartLink before? Let us know your thoughts on it below...