"There's a new honesty around Skoda that's hugely exciting"
The rise and rise of Skoda looks set to continue with well-judged new models and tempting tech in the pipeline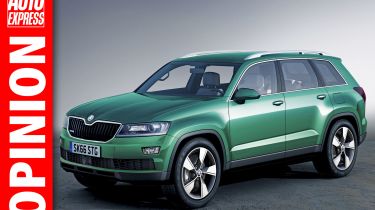 It's fair to say that most mainstream car makers have delusions of grandeur, trying to convince us that they're the next ones to knock on the door of the elite 'premium car maker' club. Yes, I reckon a couple of them might well be able to do it given time and investment, but for most it's a story we've been hearing (and rolling our eyes at) for many a year now.
There was a time when Skoda seemed to be heading down that route, too – worryingly so for a group that includes VW and Audi. Certainly in terms of quality and dynamics, if not badge appeal, the three brands were getting mighty close. There was very little daylight between them.
Opinion: "Spiritual successor to the original VW Beetle? The Citroen C4 Cactus is it"
So it was refreshing to hear Skoda boss Winfried Vahland when he told us that the new Superb – which we've driven as a prototype – would not be chasing the new VW Passat. He's happy to try and take on (and beat) the likes of the Vauxhall Insignia and Ford Mondeo with a combination of what have become key Skoda values: space, style and keen pricing. 
Such are the aspirations of many of the Superb's rivals that I bet they don't list the Skoda as one of the cars they're aiming at. More fool them. We know from Skoda's success in our annual Driver Power customer satisfaction surveys how highly owners rate their cars – especially the current Superb.
Opinion: "2014 was a great year for car fans, but 2015 will be even better"
With the new model offering all that is expected of a Skoda, plus a smattering of new and tempting tech, my money would be on it being another favourite among buyers. And with more honest new Skodas heading our way, including a large SUV (above), I've no doubt the brand will be able to achieve its bold 50 per cent growth target by 2018.
Is Skoda headed in the right direction? Let us know on Twitter, on Facebook or in the comments section below...