Car vs bike: Ed Clancy takes on Skoda Rapid Spaceback
Olympic gold medal-winning cyclist Ed Clancy races Mat Watson in a Skoda Rapid Spaceback
Which is better: four wheels or two? In the world of online videos, the answer is both.
On YouTube, car vs bike videos are hugely popular – our film of a BMW M5 racing against BMW's S1000RR motorcycle has attracted nearly five million views.
So when Skoda offered us some time with its brand ambassador – double Olympian and professional cyclist Ed Clancy MBE – we thought another car vs bike video was in order... even if the bike in question would be human-powered.
The plan was to film a race along part of the route of the second stage of Britain's leg of the 2014 Tour de France, which is set torun from York to Sheffield on 6 July.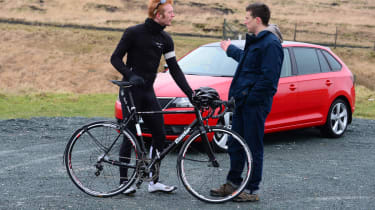 During our initial plans, we envisaged a cinematographic masterpiece – a battle of man against machine beautifully shot against the dramatic backdrop of awe-inspiring Pennine landscape contrasting with stunning, cool-blue winter skies.
But things never go to plan, especially where the English weather is concerned. In fact, the conditions were so bad that we almost abandoned the shoot entirely. In the end, it became one of the toughest tests of our cameramen, myself and even Ed – a man used to braving the elements on a bicycle and performing under the spotlight at the very highest level.
The day would also be a test for our equipment. Tripods were blown over by the wind, batteries were drained faster by the bitter cold and one camera suffered serious water damage and gave up the ghost just an hour into filming. Still, as they say, the show must go on.
By the end of the shoot, we would all be soaked to the bone. Even me – and I spent most of my time in a car. So spare a thought for Ed, dressed only in lycra, pedalling head-on into sleet and in real danger of suffering from hypothermia. But not once did he complain. It's at times like this that you realise just how much grit and determination being an Olympic champion requires.
So who came up with this crazy idea? We blame Skoda. Its association with bikes dates back to 1895, when company founders Vaclav Laurin and Vaclav Klement joined forces and began manufacturing bicycles in their home town of Mlada Boleslav in the Czech Republic. And we wanted to do something to mark this.
Cycling has remained an important area for Skoda to support over the years. It's not only a partner of the Tour de France, but also Italy's version – the Giro d'Italia – plus the World Road Championships. In addition, the company sponsors Ed's Rapha Condor-JLT team.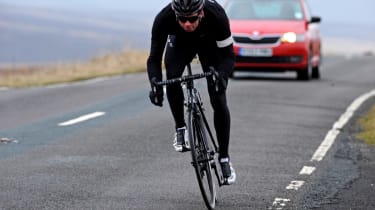 Of course, it doesn't just keep its toe in the cycle market, as you can still buy Skoda-branded bicycles today, and they are very good. However, for our video Ed would be on his own Condor racing bike. After all, if he was going to be racing a car he would require the familiarity of his own equipment.
That car would be a Rapid Spaceback, chosen largely because it's the latest model to be added to the Skoda line-up. Thankfully, the manufacturer had the good sense to send us a red one; when filming, colour is often more important than engine choice or trim level – especially when the skies turn grey, which they invariably do in the UK.
Pitstop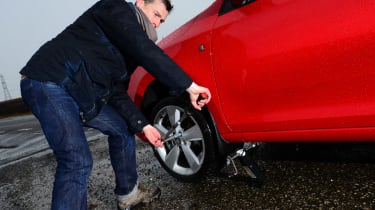 Our race would take place on a three-mile section of road near the village of Cragg Vale, W Yorks. But while Ed is fast, with all the will in the world he would never be able to beat a car in a straight road race, even though I would use the Rapid's cruise control to ensure I didn't exceed the 50mph speed limit.
So, to make things fair, we came up with the following premise: we'd both start the race without a front wheel. Ed would have to remove his Condor from the back of the Rapid and refit its front wheel, while I'd taken the nearside front wheel off the Skoda – leaving the car on its jack – and placed it in the boot next to Ed's bike.
The time it would take me to refit the front wheel should give Ed a sufficient head start for a fighting chance, we figured – especially as my wheel-fitting skills are quite a long way from those of a Formula One pit crew.
With Ed capable of averaging between 25mph and 30mph on his bike, if I took too long fumbling with the wheel, the race would be over even before I got in the car.
Actually, it was almost over even before it even began. We mimicked a Le Mans start, but I slipped on the sleet-covered road as I ran to get the wheel out of the boot and fell flat on my face. I only hope the crew warmed themselves up by laughing so hard.
Thankfully, Ed is a sportsman, and while he was keen to point out that he managed to stay upright even though his cycling shoes have as much grip as ice, he allowed me a restart. You can watch the video above to find out what happened.