Smart ForTwo crash test with Mercedes S-Class
Smart looks to demonstrate the safety of the new ForTwo by crashing it head-on into the flagship Mercedes S-Class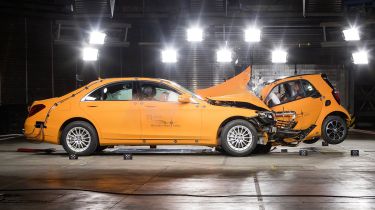 Smart has subjected its new ForTwo microcar to a worst-case scenario crash test by smashing it head-on into a new Mercedes S-Class. The in-house test, which you can watch in the video below, is supposed to demonstrate how using Mercedes' 75 years' worth of car-building expertise has benefitted the diminutive Smart in the safety stakes.
Each travelling at 50kph (31mph), the Smart and Mercedes impacted across a 50 per cent frontal overlap, piling more stress onto the Smart's 'Tridion' safety cell, which directs energy around the passenger compartment.
Weighing in at 2308kg, the crash-tested S-Class was more than twice as heavy as the 1124kg Smart ForTwo. The footage doesn't show how far the lighter Smart rebounds away from the S-Class after impact, but the car does appear to perform as intended in the experiment. Though Euro NCAP is yet to officially test the new Smart ForTwo, expect Smart to be fairly confident of a strong showing on the evidence of this in-house test.