End of the road for diesel Subarus
Bosses confirm Subaru will end production of diesel engines with supplies likely to run out in mid 2019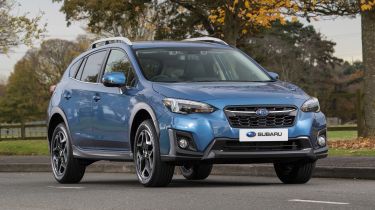 Subaru will not continue to offer diesel engines in its range according to UK boss Chris Graham. Speaking to Auto Express at the Geneva Motor Show, he said: "We can only sell what the manufacturer produces, and moving forward it looks like they will probably not be producing any diesels.
"We're working very hard, particularly in Scotland and Northern Ireland, which are both very hardcore diesel areas. We've secured ourselves enough diesels to move us beyond the point of exhausting all those customers who want to change at the moment. Bearing in mind the footfall of customers is, rather than three- or five-year, a seven-year [cycle].
• 2018 Geneva Motor Show summary
Graham said Subaru has "stock to last us certainly until the end of this year, possibly into Q1 [the three months] next year. We're not thinking there will be a wholesale stop tomorrow, where everybody stops buying diesel, so we're quite comfortable with the stock we're holding.
"If the sales start increasing because buyers think 'if I don't buy now, I won't get another one', then we'll have to manage that. 
"We're working with the dealers to start offering petrol to try and ensure a test drive is taken just for comparison [with diesels]. Some people will convert, but some unfortunately won't. Saying that, I think they will because a Subaru buyer is a Subaru buyer…we're confident a high proportion will stick with Subaru as a brand."
Subaru bosses admit the firm was late to the party with diesel, with the first diesel powered Subaru not introduced until 2007 a delay widely credited to the firm's insistence on sticking with a horizontally-opposed engine – which became the world's first turbocharged boxer unit.
Graham fears Subaru's lateness in launching a hybrid engine could be the biggest threat to the business, in the UK at least. However, Subaru's New Global Platform, which underpins the latest Subaru XV and Impreza and will be the basis of all of its models over the coming years, has been engineered to accept petrol engines as well as all-electric and hybrid powertrains.
He suggested that in time, all models in the range could be offered with a choice of three powertrains, as there will be few technical obstacles in the way.
Do you think lateness in launching a hybrid engine could harm Subaru? Let us know your thoughts in the comments below.