Subaru to unveil new e-Boxer hybrid at Geneva
Subaru will debut a new mild-hybrid version of its 2.0-litre flat-four powertrain at this year's Geneva Motor Show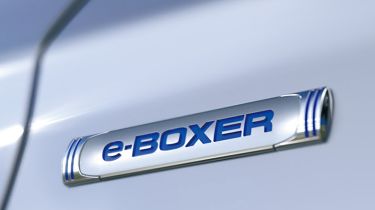 Subaru will debut a new mild-hybrid powertrain at this year's Geneva Motor Show. Called the e-Boxer, it's expected to comprise Subaru's 2.0-litre flat-four petrol engine supported by an electric motor.
The Japanese firm is yet to announce any official specifications for the engine, however, earlier this year Subaru previewed its new Forester e-Boxer at the Singapore Motor Show, which featured a 2.0-litre naturally-aspirated flat-four engine mated to a 13bhp electric motor embedded within the drivetrain's CVT gearbox.
• Geneva Motor Show 2019 preview
The powertrain produced a claimed combined output of 156bhp and 253Nm of torque, with power being fed to all four wheels.
At medium speeds, the engine and electric motor work together for better efficiency. When travelling at higher speeds, the engine alone propels the car while simultaneously charging the battery. Once the battery is charged, the electric motor can power the hybrid SUV for a limited distance at low speeds, such as when setting off from a standstill.
The system has a minor impact on boot capacity with space dropping from 520- to 509-litres with the new e-Boxer engine fitted. Whether or not the European version of Subaru's e-Boxer engine will feature these specifications is yet to be confirmed.
What are your thoughts on Subaru's new e-Boxer powertrain? Let us know in the comments section below…