230bhp Subaru BRZ
The heat is on for the Subaru BRZ, with a production version of the STi concept due next year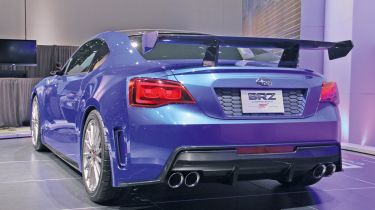 The Subaru BRZ is set to get a power and performance upgrade. A BRZ STi concept debuted at last year's Los Angeles Motor Show, where global marketing manager Atoshi Atake told us: "We can develop the [engine's] intake system; there is certainly room for improvement there."
There's also expected to be a freer-flowing exhaust to improve the sound of the engine, the variable valve control system is set to be tweaked and Subaru is likely to raise the rev limit past 7,500rpm. The modifications should raise power from 197bhp in the standard car to somewhere between 220bhp and 230bhp.
To complement the tweaks, Subaru will follow Toyota by upgrading the springs and dampers, and fitting 18-inch alloys with wider, grippier tyres and four-piston STi brakes. The changes are being evaluated at Germany's Nurburgring track.
Unlike the rally-bred Subaru WRX STi, the BRZ STi won't be turbocharged. Space constraints, particularly in the engine bay – which is too small to fit an intercooler – rule this out.
Four-wheel drive has been ditched for packaging reasons, while a supercharger is proving a problem as it would hamper the car's efficiency severely.
Visual upgrades to the STi will include a modified grille, a huge rear wing, special side skirts and a front lip spoiler. And inside are extra dials and more supportive bucket seats.
One source close to Subaru in Japan told us to expect the BRZ STi to hit dealers there in the spring, and arrive in the US and Europe soon after that. It's set to cost around £2,000 more than the £24,995 entry-level BRZ.