Subaru BRZ review
The BRZ is the first rear-wheel-drive coupe from Subaru, and what it lacks in power is more than made up for in handling
The Subaru BRZ is a brilliant driver's car and one of the most exciting affordable sports cars to go on sale for years. The rear-wheel-drive coupe is the product of a joint venture with Toyota that has also produced the GT 86. Both are good looking, brilliant fun to drive and surprisingly economical.
They occupy a place in the market that used to be dominated in the eighties by the likes of the Toyota Celica and Ford Capri. These days, their rivals include the rear-wheel-drive Nissan 370Z and front-drive coupes like the Volkswagen Scirocco and Audi TT.
But it's worth remembering that while the BRZ is loads of fun, it's not necessarily the best car day-to-day. On the motorway it's noisy, around town the ride is a bit too firm and those back seats are almost useless.
Engines, performance and drive
This is where the Subaru BRZ excels. It was conceived as a lightweight, agile and responsive sports car with lower grip levels. It's meant to put the driver at the centre of the experience – and it has succeeded.
The 197bhp 2.0-litre engine is mounted very low in the chassis, giving the car a low centre of gravity. Together with a kerbweight of just 1,250kg – about the same as an entry-level Ford Focus – the BRZ feels very agile. It doesn't feel flimsy though, with meaty steering and firm brakes.
More reviews for BRZ Coupe
Car group tests
Long-term tests
Road tests
The engine doesn't have much torque at low revs, so you need to keep it revving at 4,000rpm or higher for it to really deliver its best. Do that, and it's great fun - the engine likes to spin all the way to 7,000rpm, at which point a small light on the rev counter blinks at you to change up.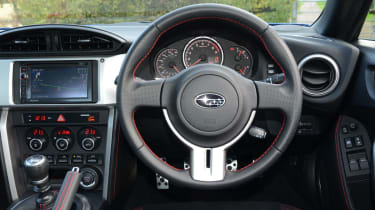 The tyres are relatively skinny, so there's decent grip, but not too much that you can't slide the car around at reasonable speeds. It's really engaging and genuinely puts a smile on your face.
On the downside, the engine doesn't have much flat-four burble – it sounds a bit gruff. Transmission choices include a six-speed manual or a paddleshift auto – the latter is smooth and involving, but the manual is even better.
For all its fun, the BRZ can be a bit tiring if used an everyday car. On the motorway you'll have to turn the stereo up if you want to hear it and you can barely speak to people over Bluetooth because they won't be able to hear what you're saying. What's more, the ride over potholes and bumpy roads is verging on back-breaking.
MPG, CO2 and Running Costs
Flat-four-cylinder boxer engines have never been known for their low running costs, but the BRZ's engine is remarkably efficient. Subaru claims 30mpg, and we reckon you'll get close to that on a cruise – even when using all the performance, we still achieved just over 20mpg.
Not bad when you consider the engine is quite highly strung, producing around 100bhp per litre. Emissions are only 159g/km, so you could run the BRZ as a company car – although a 208bhp Audi TT 2.0 TFSI is even cleaner at 154g/km. As for maintenance, it really depends how you drive it.
The BRZ doesn't weigh much, so it should be relatively easy on its brakes and tyres. Insurance will be quite high while Subaru dealers can be pricey when it comes to servicing - we'd recommend going for Subaru's Everything Taken Care of (ETCo) offer. Residual values should be strong – Subaru won't be getting as much of the worldwide production as Toyota, which means the BRZ will be a rarer sight on UK roads, hopefully keeping second-hand prices up.
Interior, design and technology
The Subaru BRZ really stands out on the road. Not only does it have a sporty long bonnet and short-tail, but it's also very low. Different lights and a Subaru grille keep it separate from its Toyota GT 86 sister car, as does the choice of WR Blue paint.
Most models sold will be the top-spec car, which has 17-inch alloy wheels as standard. Inside, the cabin has well bolstered sports seats, a chunky sports steering wheel and metal pedals, while the instument panel has a large rev counter.
Dashboard plastics are best described as durable - they do the job, but are no match for Volkswagen or Audi in terms of quality.
Practicality, comfort and boot space
Subaru expects most buyers to use the BRZ as a second car – and if you're just popping to the shops or away for a weekend, it'll be fine.
The boot measures 243 litres, which is 50 litres less than that in the Audi TT – it'll hold a single suitcase and some soft bags, so will have more than enough room for two people's luggage.
As for the rear seats, they're tiny and are best thought of as extra storage. In the front, the driving position is good, with a steering wheel that adjusts for reach and rake, while slim windscreen pillars and good-sized mirrors mean the BRZ is easy to see out of.
Driving at motorway speeds will drain the fuel tank pretty quickly – you'll find a long 200-mile journey will be about enough to drain it.
The Subaru BRZ comes with driver, passenger and side airbags, as well as a five-mode traction and stability control system – and while it hasn't been crash-tested by Euro NCAP, it should perform well.
More importantly, it's an agile car with strong brakes, so if you find yourself needing to avoid an incident, you're best placed to do so.
Remember that the BRZ is the result of a partnership between Subaru and Toyota, both of whom have brilliant reputations for reliability – and the BRZ is based on many tried-and-tested parts. It should be pretty fault-free to run.
Which Is Best
Cheapest
Name

2.0i SE Lux Ltd 2dr

Gearbox type

Manual

Price

£30,060
Most Economical
Name

2.0i SE Lux Ltd 2dr

Gearbox type

Manual

Price

£30,060
Fastest
Name

2.0i SE Lux Ltd 2dr

Gearbox type

Manual

Price

£30,060