Subaru BRZ vs MX-5
The Subaru BRZ is focused on providing driving fun. We see how it matches up to the Mazda MX-5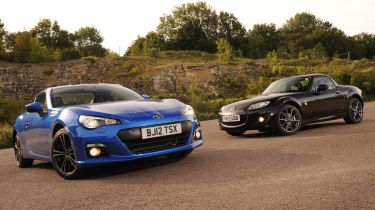 Subaru is famous for two things: turbos and four-wheel drive. So the brand's faithful followers were shocked to learn that its latest sports car – the BRZ – features neither of those traditional selling points.
Instead, this 2+2 coupe attempts to go back to basics and deliver what Subaru calls 'pure handling delight' through a lightweight rear-wheel-drive chassis powered by a high-revving, naturally aspirated 2.0-litre engine.
It was developed in tandem with the Toyota GT 86, which has already grabbed a significant group-test victory by beating accomplished rivals like the Audi TT and Nissan 370Z in our previous group test. To emerge from its twin's shadow, the Subaru faces a very different challenge.
Until now, the Mazda MX-5 has been the default choice for anyone looking for an affordable and exciting sports car. In Roadster Coupe form, it's surprisingly close to the new Subaru on price and performance. So can the untried BRZ overcome its legendary rival?
Verdict
What started out as an unlikely rivalry soon became an almighty battle on the road and at the test track – but sadly only one car can emerge victorious here.
We were amazed by how similar these contenders felt when driven back-to-back: both stick to a simple formula that places the driver right at the heart of the action. Both are thrilling in different ways, too, and unlike grippier, more powerful rivals, they manage to feel agile and involving at or below speed limits.
The BRZ's rear-wheel-drive layout represents a major departure for Subaru, but the distinctive boxer exhaust note and sparse interior design mean the brand's sports car DNA is alive and well.
In this test, it consistently held the edge over the MX-5 in terms of performance thanks to its stiffer body and slight power advantage. It doesn't boast the same amount of luxury accessories, but the spacious interior, supple ride and decent boot make it much easier to live with day-to-day.
The Mazda remains one of the best roadsters money can buy – and this Venture edition only boosts its appeal further – but the softer suspension set-up meant it was less rewarding at the track. On the road, a cramped cabin plus higher wind and road noise at motorway speeds ensure it demands more practicality sacrifices than the brilliant BRZ.