Long-term test review: Subaru BRZ
Final report: We say farewell to Subaru BRZ with a head-to-head with WRX STi big brother
Mileage: 8,667 miles Real-world fuel economy: 28.5mpg
Our time with the Subaru BRZ is up, but as we say goodbye to the sporty coupé, we can also welcome back one of the brand's most famous nameplates to the UK: the WRX STi.
Favourable exchange rates and strong customer demand have meant that the latest STi, which wasn't previously destined for our shores, has now gone on sale. At £28,995, it's £5,000 more than the BRZ, but aside from the paint, are there any similarities between the two?
Both cars have boxer engines, but it's a 2.0-litre four-cylinder in the BRZ and a 2.5-litre turbo in the STi. Power delivery is surprisingly similar – both seem a bit lacking in torque low down in the revs, doing their best work near the red line.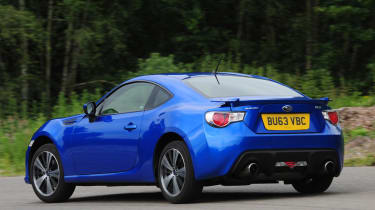 But in corners they're worlds apart. The BRZ requires a bit of a delicate touch; it feels more involving and more responsive to dabs of the brake pedal or prods of the throttle. Meanwhile, the four-wheel-drive WRX STi feels planted and secure no matter what you do. It's bound to be quicker point-to-point, but you'll have more fun in the BRZ.
However, throughout our time with the smaller Subaru, I've found it tricky to live with. It's too noisy, too firm and those back seats have carried a total of zero passengers – everyone seems reluctant to even try to squeeze in!
More reviews
Car group tests
In-depth reviews
Road tests
The WRX STi could be the solution. Despite feeling firm at low speeds, the suspension seems to work a lot better as you up the pace, floating gently over most of what our roads have to offer.
It's also a lot more refined; you can hold a conversation over Bluetooth on the motorway and there's no need to turn up the stereo to deafening levels.But then you'd always have that niggling feeling when you're on a great road that you should have stuck with the BRZ. For all its foibles, it's still just about the most fun you can have in a road car and its handling never fails to impress, even after driving something a lot more exotic.
It's a shame you can't say the same about the cabin's design and quality. Thankfully, it's been a totally stress-free eight months. Aside from the flat tyre we got around Christmas time, there have been absolutely no problems, faults or reliability issues. It's also attracted a lot more attention than any other car I've run before, and more than once we've encountered other Subaru drivers keen to strike up a conversation about the BRZ.
You feel like you're part of an exclusive club, but after eight exhilarating months, our membership has expired. Thankfully, the return of the WRX STi should ensure Subaru's reputation stays intact for years to come.
Subaru BRZ: report 3
Rear-wheel-drive Subaru BRZ coupe or hot hatch? Our man takes his pick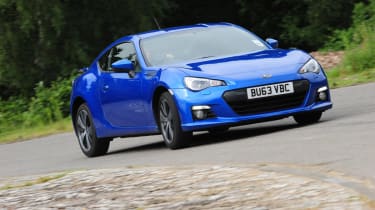 Mileage: 7,121 miles Real world fuel economy: 28.5mpg
t's been six months since we took delivery of our Subaru BRZ, and I've spent a lot of time wondering if it's a car I'd want to live with every day. It's great fun on the right road, but I'm only on the right road about five per cent of the time.
Every other minute, I'm left thinking the ride is unrelentingly firm and the cabin could definitely do with some work. So I organised the ultimate test drive, pitching the BRZ against three of the latest hot hatches. The Audi S1, MINI Cooper S and Ford Fiesta ST promise similar thrills for similar money.
The 110-mile motorway journey from my house to our location demonstrates the BRZ's pitfalls perfectly. At 70mph it's noisy inside, so you can't really use the Bluetooth to make phone calls, plus you'll have to turn the radio up if you want to hear it. The 50-litre fuel tank seems to drain too quickly at the legal limit as well – I got through about 25 litres en route.
But as you pull off the motorway on to a sweeping country road, the fantastic handling helps you forget about all this.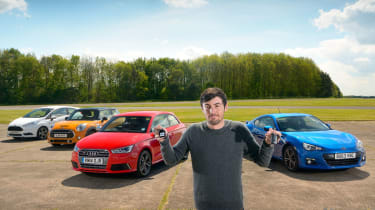 Are any of our other contenders better all-rounders? Well, the Audi S1 is a thriller – it covers 0-62mph nearly two seconds faster, in 5.8 seconds. And the quality and design inside are in a different league. Yet the handling didn't impress as much as the Subaru's, the ride is a touch too firm and it costs about £1,000 more.
The Fiesta ST is probably the closest match – it's easily on a par for outright fun and our entry-level model starts at about £6,000 less than the BRZ. Again, though, the suspension is rock-hard.
So, how about the MINI? The classy cabin is a breath of fresh air, the 2.0-litre turbo provides enough pace – 0-62mph takes 6.8 seconds – and there's enough play in the chassis to keep me interested. Plus, the suspension cushions big bumps, and it's decent on the motorway, too.
If I lived – and commuted – on a great stretch of smooth, twisting and deserted road in the middle of Wales, I'd have the BRZ every day. But as it stands, I'm doing a lot of town and motorway driving, and that's just not where it shines.
As much as I love the Subaru's exclusivity, looks and handling, this time I'd take the MINI.
Subaru BRZ: report 2
Mileage: 5,446 miles Real world fuel economy: 29.7mpg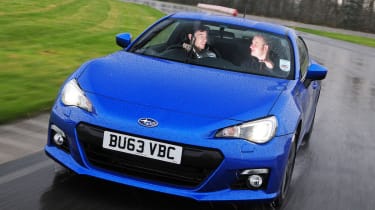 Driving a Subaru BRZ on a twisty road is great, but in the 5,400 miles covered over the past few months I've been itching to get it on a track to see what it can really do. So I enlisted the help of road test editor, James Disdale, to wring out the car's full potential.
We headed up to Bruntingthorpe proving ground in Leicestershire, and it's a journey that highlights one of our main gripes with the BRZ – it's not built for motorways. There's a lot of wind and road noise, and the seats and suspension are so firm that journeys over an hour normally come with a bit of back pain.
But as we got to the twisting country roads surrounding Bruntingthorpe, the BRZ came into its element. The controls are set up nicely and offer plenty of feedback, allowing the Subaru to pull off a clever trick – it's fun, even at low speeds.
A sterner test lay ahead as we pulled on to the track for the first time. James got behind the wheel and did a hot lap of the circuit, demonstrating exactly what happens when you're driving a ar at its limits. "Turning into a corner while you're braking is going to shift all the weight to the front of the car so the back end will go light and you'll feel it start to slide," said James, as he neatly corrected a bit of oversteer.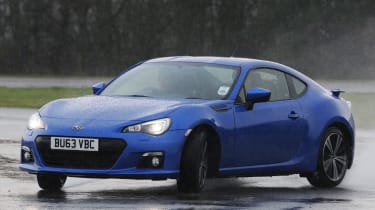 "Heading in too quick with a neutral balance nearly always means understeer, but if you lift off the throttle mid-corner and get back on it again, you'll be able to hold the car in a slide using the accelerator and steering."
It sounded – and with James at the wheel – looked pretty easy, so I took over to give it a go. Take a nice wide line, step on the brakes and a flick of the steering wheel immediately unstuck the rear tyres.
After a bit of frantic hand twirling, I was sliding and too caught up in the moment to concentrate on getting us out of it, so we ended up sliding one way, then the other before heading in a straight line again. Just as I started to get the hang of it, though, it started to rain.
"The BRZ is actually a little tricky in the rain; you can easily lose it," said James. It's something that I perfectly demonstrated on the next corner, as the car lost traction so suddenly that we were way past the point of no return by the time I tried to correct the slide. A few runs later, though, and I'd almost cracked it.
That was partly down to James' expert advice, but some credit has to go to the BRZ, which makes gettingto grips with a car on the limit simple. If only everything else about the BRZ was so easy to work out. The optional Pioneer sat-nav infotainment system has flummoxed pretty much everyone – some drivers have even gone without any music because they couldn't figure out how to find the correct radio station.
That's okay, though, because the BRZ wasn't built as a gadget showcase, nor as a motorway cruiser. It was built to thrill, placing purity of driving above everything else, and the fact that I still look forward to getting behind the wheel proves it does that job perfectly.
Subaru BRZ: report 3
Mileage: 1,844 miles Real world fuel economy: 28mpg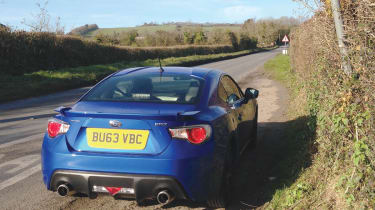 Our fleet has been a bit short on sports cars recently. Fortunately, we've been offered the chance to run a Subaru BRZ for a few months, so I was more than happy to rectify that situation.
As you'll no doubt remember, the BRZ was co-developed with Toyota and is the near-identical sister car to the GT 86. The Toyota is our reigning Performance Car of the Year, having seen off some seriously exotic metal to take the crown, so our new Subaru's lowly 197bhp power figure shouldn't be scoffed at – especially when you consider its great-value £24,995 basic price tag.
What makes the BRZ so special? Well, the joint project with Toyota wasn't about creating something that could put in quick laps of a track, or post the fastest 0-62mph time or the highest top speed. Instead, it was about promoting driving purity – allowing you to feel part of the experience without having to do big speeds or needing access to a circuit.
To find out if it's worked, I headed to Bell and Colvill in West Horsley, Surrey, to pick up my WR Blue BRZ. And as sales manager Carl Wallis showed me round the car, it instantly struck me how well the vibrant blue colour suits it. In more subtle colours like white or silver, a few of the curves get lost, but in blue you can see every detail, plus the nicely contrasting tail-lights.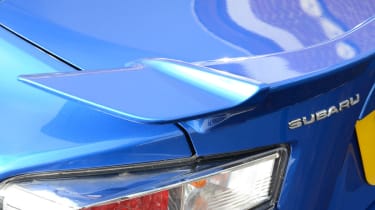 Our BRZ is an SE Lux model, which starts from £26,495, and there's really only one optional extra, which we've duly specified: a Pioneer sat-nav system for £1,000. Pretty much the only differences between the £24,995 SE and our SE Lux are in the cabin, where you'll find the seats are finished in Alcantara and leather rather than cloth trim, with the front seats heated.
On the drive back from West Horsley, I got to let the Subaru loose on some twisty roads, where it really comes into its element. Commuting through stop-start London traffic can be a chore, with the notchy gearbox and stiff ride, but you'll forgive the BRZ as soon as you find a nice piece of road.
It has such a low centre of gravity and the steering offers so much feedback that you've always got the utmost confidence in what's going on with the chassis.
Part of the Subaru's appeal is that you can explore the limits of grip at relatively low speeds, but with all the cold, wet weather at the moment I'm worried it'll break traction too easily.
So I've spoken with Carl at Bell and Colvill about getting some winter tyres, and there's a nice set of black 17-inch alloys on winter rubber waiting to be fitted. Let's just hope they don't spoil the handling too much...
Insurance quote (below) provided by the AA for a 42-year-old living in Banbury, Oxon, with three points.