Subaru kills off WRX STi and Impreza in UK
Subaru WRX STi and Impreza UK sales will end in UK from 2013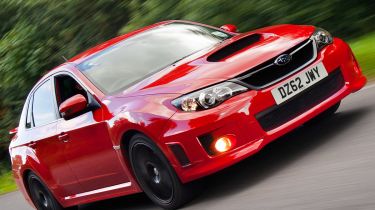 The Subaru WRX STi and Subaru Impreza will cease to be a feature on UK's roads from next year. While an all-new Impreza was launched in Japan and the US last year, a spokesman for the brand confirmed that there isn't enough demand for cars like the Impreza in the UK, so the new model will not be added to the UK line-up.
He said: "The new Impreza has been under evaluation in the UK for 12 months, but the decision has been taken not to bring that car to the UK because of insufficient demand."
The decision also means the end of the line for the WRX STi. Subaru split the Impreza and WRX STi nameplates into two separate models in 2007, when the third generation Impreza arrived, and demand has dwindled as the performance model can no longer compete with more modern rivals in terms of design, interior quality, performance and emissions.
The spokesman said: "Currently we have no plans to bring in further [WRX STI] stock after the current stock sells out – which should takes us to early summer depending on demand."
Instead, Subaru will focus its UK efforts on its XV, new Forester and Outback SUV models: "Subaru is concentrating on what it's really good at – so we're concentrating on SUVs and the BRZ – we're hoping to get more [BRZs] next year to satisfy strong demand for that car."
He added that he "could not confirm what happens to the Legacy after the end of 2013".