Suzuki Swift Sport - best hot hatchbacks 2017
A rev-happy naturally aspirated 1.6 adds some sparkle to Suzuki's supermini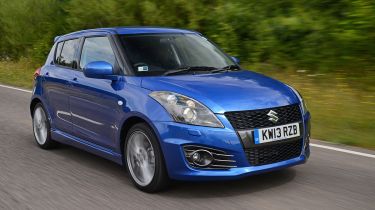 Ignore its dinky dimensions and bargain basement price, because the Suzuki Swift Sport is a genuine hot hatch contender. With its rev-hungry 1.6-litre engine and razor-sharp responses, the eager Japanese machine is a blast to hurl down twisting back roads. Yet when you want to take it easy, the refined and generously equipped Suzuki is a sweetly usable daily driver. The only thing that holds it back is its cramped cabin.
Thanks to stiffer suspension than the standard model, the Suzuki Swift Sport has virtually no body roll in the corners, with sharp steering and fun handling cementing the Swift Sport's hot hatch credentials.
The 1.6-litre engine in the Suzuki gets 134bhp, but because of the car's low weight it will go from 0-62mph in 8.7 seconds. That's not up to the pace of many other cars on this list, but thanks to the nippy handling and snappy six-speed gearbox it doesn't feel slow at all – in fact, the great-sounding engine makes driving the Suzuki Swift Sport an absolute blast.
Like many Japanese manufacturers, Suzuki owners rate their cars highly in the Driver Power customer satisfaction survey, so there's nothing to worry about when it comes to long-term ownership. Plus, the five-star safety rating from Euro NCAP should give owners good peace of mind when it comes to taking the family for a drive.
Driving the Suzuki Swift Sport every day won't be as easy on the wallet as some rivals, though, as the car can only manage 44mpg. Practicality isn't great either, with a small 211-litre boot and no spare wheel. However the low asking price of the Swift Sport means we can overlook these problems – it's a brilliant hot hatchback for not much money, so what more could you ask from it?