Tesla recruits British designer from Volvo
Tesla pulls in Ian Kettle, the man behind the funky Volvo XC40 SUV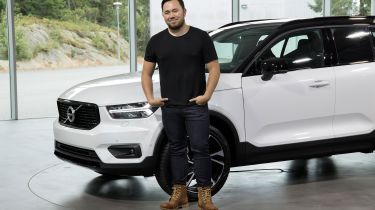 Tesla has secured the services of the young British designer behind the radical looks of the Volvo XC40, Auto Express can reveal.
Ian Kettle, a former Royal College of Art and Coventry University student, became one of the car industry's hottest designers when he led the exterior design team on the well-received XC40. He named sci-fi movies and robots as his influences when finalising the shape of the small SUV.
However, Kettle's online work biography suggests that he left his position at Volvo back in February, and sources at the Swedish brand confirm that he is no longer with the company. His current location is listed as 'greater Los Angeles area'.
• Tesla to build a Golf rival within five years
Auto Express understands that Kettle started work as a senior designer with Tesla a few weeks ago - part of a team which ultimately reports into the American company's design director, former Mazda man Franz Von Holzhausen. The move is a bold one for both parties; Tesla is likely to be hard at work on the next generation of its Model S (introduced back in 2012), as well as the smaller, more affordable model that the company's boss Elon Musk has promised to deliver within the next five years.
Kettle, meanwhile, leaves Volvo during a strong period of growth for the brand, which is blossoming under the ownership of Chinese firm Geely. His appointment as senior designer means he's likely to be handed overall responsibility for managing concept and production projects, although the final sign-off would still be Von Holzhausen's.
Tesla declined to confirm the appointment and Kettle himself was unavailable for comment.
Take a closer look at the Volvo XC40 here...