Tesla to axe 3,000 jobs in a bid to boost profits
The American electric car firm will cut seven percent of its workforce, following its meagre profits in the second half of 2018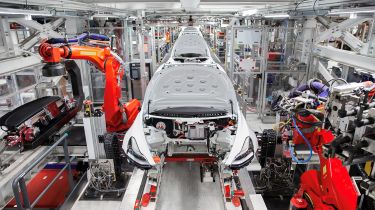 In a letter to his staff, Tesla CEO Elon Musk has announced that his company will be reducing its full-time workforce by seven per cent, retaining only the most critical temporary staff and contractors, in a bid to improve its revenue.
Tesla has suffered a string of financial setbacks, with a series of production bottlenecks limiting the number of cars sold. The company only managed to eke out a four per cent profit margin in Q3 of 2018. Q4 proved to be more financially taxing, with Musk confirming an even narrower profit margin.
• Best electric cars to buy now
The EV manufacturer's workforce was 45,000 employees-strong by the end of 2018 (growing by 30 percent over the previous year), which Musk says is more than the company can support. As a result, Tesla will trim 3,000 jobs.
In addition to the workforce cuts, Tesla will also increase the base-spec Model 3's production rate, in an effort to lower its retail price. By increasing its scale of production, and automating more of its manufacture, Tesla hopes to finally reach the Model 3's promised retail price of $35,000 (around £27,000), which it has failed to achieve since the model's launch.
What are your thoughts on Tesla's workforce cuts? Let us know in the comments section below…