New baby Tesla previewed in official design sketch
Tesla has released a design sketch of a new compact EV, along with plans for a new China-based design studio and R&D centre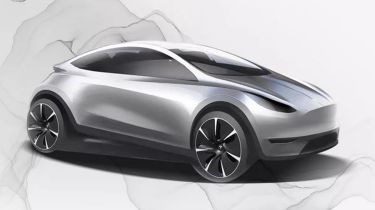 Tesla has revealed plans to build a new design studio/research and development centre in China. This design sketch was released as part of the announcement, previewing how the company's first compact vehicle would look. Should it reach production, the vehicle would sit under the Model 3 in Tesla's line-up, acting as a rival to the Volkswagen ID.3.
The design sketch was released in an official company document, which outlines the new design and engineering centre's intentions and issues a call for job applicants – so this sketch could be little more than a well-engineered recruitment tool, produced to attract designers and engineers to Tesla's new Chinese facility.
• Tesla Cybertruck: full specs, pricing and images
However, back in 2018, Tesla CEO Elon Musk announced to the company's shareholders that Tesla would build a compact car to rival the Volkswagen Golf in "less than five years." Given Musk's reputation for delivering on his claims, it remains possible that this sketch previews an actual production model, with Tesla using its new Chinese R&D centre to break into the compact EV market.
During a launch event for the Chinese-built Model 3 and Model Y, Musk explicitly expressed his desire to design an electric car in China for the global market. He said: "I think something that would be super cool – and so we're gonna do it, we're gonna try to do it – would be to create a China design and engineering center to actually design an original car in China for worldwide consumption.
"I think this will be very exciting. I think China has some of the best art in the world, and I think it's something that would be appreciated on a worldwide basis. I think it should be done, and we're gonna do it."
Read more about a potential new baby Tesla on our sister site DrivingElectric...