New V4 Tesla Supercharger available to all electric cars
Tesla has unveiled its newest EV charger which can be used by anyone and boasts a contactless card payment reader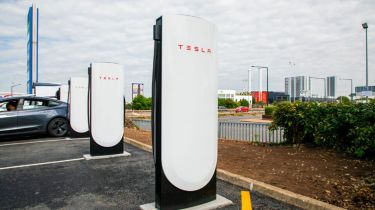 Tesla has just unveiled the latest V4 generation of its Supercharger, which has now made its debut in the UK at the firm's flagship showroom in Tottenham.
Unlike previous versions of the Supercharger, this latest iteration of Tesla's ultra-rapid public charging solution has been designed with all electric cars in mind. From launch, all V4 Supercharger sites – more are expected in the UK by the end of the year – will be available to not only Tesla drivers, but anyone owning an EV with a CCS charging port.
The V4 unit has already been seen popping up in countries such as the Netherlands and Germany and features much longer cables than before. However, what sets the new UK model apart is the inclusion of a screen and contactless payment reader. 
This, installed in-line with new government regulations designed to make EV charging easier and more transparent, displays the price of charging in pence per kilowatt-hour, with users able to pay via a QR code in the Tesla app, or simply by tapping their credit/debit card on the terminal.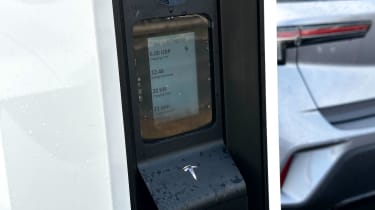 According to Tesla, the new V4 Supercharger outputs speeds of up to 250kW – the same as the outgoing V3 model. This is capable of topping-up a Tesla Model Y from 0-80 per cent in under half-an-hour.
However, Elon Musk's firm also insisted that the unit has been "futureproofed" and is "capable of much higher speeds" – the team remained tight-lipped about how fast the V4 can really charge and how soon we can expect them to be updated, though.
Attending to cut the obligatory red ribbon, transport minister, Jesse Norman, told Auto Express: "I'm particularly excited about this as we've only just put into place these new rules about transparency and it's great to see that being done".
"The key point is to create a transparent marketplace for existing players to be able to compete with others – that's a lot about what the [regulations] are about. Whether further steps after this are required is a step after that, but let's see how we can really get the market to move first."
Click here for our list of the best electric cars on sale...