Tesla Roadster now with 400-mile range
CEO Elon Musk confirms updates for the defunct Tesla Roadster are on their way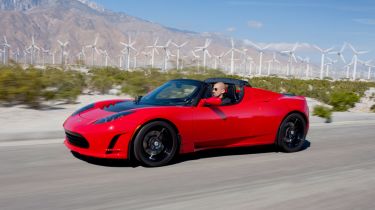 Tesla's focus may be on constantly evolving its all-electric Model S saloon, but founder Elon Musk hasn't forgotten about the brand's now discontinued Roadster. Yesterday Musk confirmed Tesla's two-seater Roadster can now travel 400 miles thanks to a handful of changes.
Founder Elon Musk tweeted: "Roadster upgrade will enable non-stop travel from Los Angeles to San Francisco – almost 400 mile range. Merry Christmas!"
Called the Roadster Package 3.0, Tesla announced the upgrades consist of a new cell in the battery pack giving 70kWh and 31 per cent more energy than the original one used in the Roadster, a 15 per cent improvement in aerodynamics using "more computational methods" and a reduction in the cars' rolling resistance – namely new tyres, and improvements in the wheel bearings residual brake drag.
The all-electric sports car was the first Tesla to hit the market in 2008, but it has since been deleted from the range which, for now, only includes the Model S 60, 85 and P85D versions. The range will be bolstered by the arrival of the Model X SUV in 2015 and the BMW 3 Series-rivaling Model 3 in 2017.
• Best electric cars to buy now
Musk followed his first tweet with: "Should mention that a battery pack upgrade is not coming soon for the Model S, but it obviously *will* happen long-term."
The announcement will be good news for Roadster owners. The old model did 0-62mph in less than four seconds and had a range of more than 230 miles. Now, the promise of 400 miles, thanks to a clever software update, and the recent expansion of Tesla's 'Supercharger' charging network, will be well received by the brand's early adopters.
Musk told Auto Express earlier this year that he and his team were planning a 400-mile range for the Roadster. He said: "The Roadster had an old generation battery," he told us. "We'll upgrade it to a new generation battery pack and it should have a range of about 400 miles, which will allow you to drive from LA to San Francisco non-stop."
• Full interview with Elon Musk: Telsa boss talks EVs with 500-mile range, plus a colony on Mars
Would you buy an electric sports car if it offered more than 400 miles on a single charge? Let us know in the comments section below…