How to sell your car: your car selling options explained
Need to sell your car? We look at the various options open to you from part-exchange to private sales, auctions and online car buying services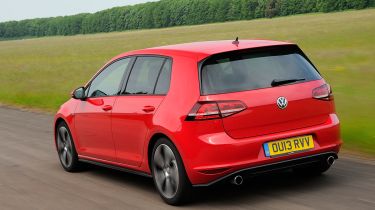 When the time comes to sell your car you have various options. In the past, most car sellers would either opt for a private sale, possibly by listing it on a car sales website, or part-exchange the car with the same dealer they're buying their new car from. Today, there's also a variety of companies offering to buy your car outright.
There's something to be said for all of these options but car sellers will be wondering which one is best for them. In this guide we'll answer all your questions around selling a car. How to choose the car sales method that's right for you and then how to make sure that you get the best possible price for your vehicle with the minimum amount of hassle. 
Click the links below for the other sections of our car selling guide...
You can also get an accurate idea of what your car is worth using our valuation tool or receive offers direct from dealers through our car selling service partnership with Motorway.
How to sell your car
There are various options open to you when it comes to selling a car in today's marketplace. A private sale or a part-exchange have been the most familiar to motorists over the years but increasingly, selling the car to an online car buying company is a popular option. You might even consider selling your car at auction. 
Let's take a look at the pros and cons of the different ways to sell your car.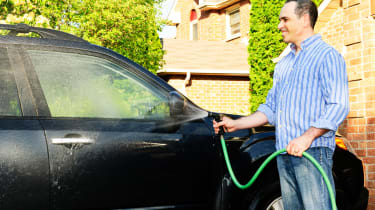 Private sale
For
Against
Extra effort and time
There can still be fees to pay
Risks associated with handling transactions yourself
If you want to maximise the amount of money you get for your car then a private sale is probably still the best way to go. The downside is that you take on all the work involved in selling the car yourself, which may be very little but could be a lot. 
Advertising the car then dealing with enquiries from potential buyers, viewings and test drives all takes time. Depending on the particular private sale route you choose, you may also have to handle the transaction itself and the paperwork.
At one end of the private sale scale you could simply put a sign with a price and your phone number in the car window and hope for the best. Posting about the car on your social media channels is another low cost option. At the other end, you can advertise it through an online car sales platform like Auto Trader that could reach thousands of potential buyers but will come at a price. 
When deciding which route to go down, much depends on the type of vehicle you're selling and its value. For cheap cars it may not be worthwhile paying the extra fees required by websites that give you access to bigger audiences of potential buyers. For more expensive or exotic cars it may make sense to look for specialist websites, dealers or car auctions where similar models are for sale.
Selling a valuable car yourself without the aid of an online platform will mean managing a large financial transaction between you and the buyer. Many sellers will prefer to avoid that by selling through car buying sites, dealers, brokers or car auctions.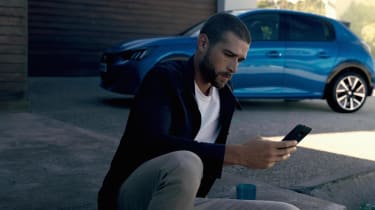 Online car buying service
For
Partnership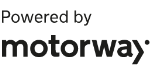 Need to sell your car?
Find your best offer from over 5,000+ dealers. It's that easy.
Against
Initial offers may be higher than the price you get
Many online car buying services have sprung up over recent years, offering to buy any car that you might have to sell for a good price with minimum fuss and hassle. On the face of it, these are a great idea because you completely avoid the long process involved in a private sale that runs from finding a buyer to managing the transaction. With these services, the car could be gone in a matter of days.
The online car buying service model varies from company to company but they will typically give you a valuation for your car based on information you provide then do an inspection to verify the car's condition. The price you actually get offered for the car may be lower than that initial valuation.
Some car buying services will simply buy your car and sell it on to the trade through an auction or through their associated dealer networks. Others act as more of a portal for dealers themselves to make offers for your car. In the end, the decision of whether to accept or decline the price offered always rests with the seller so it's useful to establish a good idea of what the car is worth from other sources before you engage in the process.
These services will accept cars and vans of almost any type and some will even take non-running cars or scrap vehicles so it can be a great solution for those wanting a quick hassle-free sale.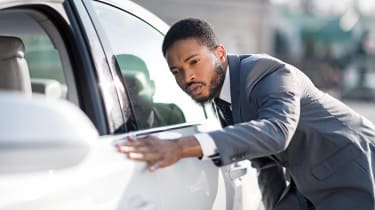 Part-exchange 
For
Easy
Part of your car buying process
Against
Prices can be low
You might get a better new car deal without a part-exchange
If you're buying a car then part-exchange can be a handy means of getting rid of your old car as part of the deal. The dealer will value the car you own, take it off your hands and give you that amount as a discount on the new car you're buying. There's no need to make other arrangements to sell your old car and you only have the one point of contact to deal with the purchase and the sale. You can drive to a dealership in your old car, and drive home in the new one.
On the downside, dealers will often offer lower prices for a part-exchange that you'll get for the car in a private sale. The dealer will be looking to move your car on at a profit so any offer will have their profit margin built in. They may also be reluctant to take cars with limited resale value and new car buyers with no part-exchange to complicate matters may also be able to negotiate a better deal on the car they're buying.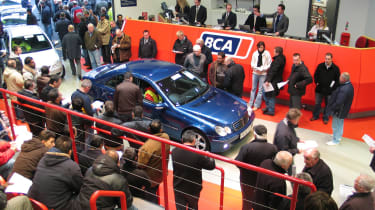 Auction
For
Potential to get a very good price
Against
Fees can be expensive
The car may not sell
If you have a rare or desirable car, an auction could be a good way of getting the best price for it but auctions are an option for cars of other types too.
There are various car auctions, both physical and online, where you can enter your car into a sale and sell it to the highest bidder. It's simply a case of contacting the auction house and arranging to bring the car along and have it inspected and entered into the next sale. 
You'll need to set a reserve price for the car above which it will be sold to the highest bid, and it's important to set this at a reasonable level to generate interest. If the reserve price isn't met, you'll keep the car unless you subsequently reach an agreement with the highest bidder.
The most famous online auction is eBay and here cars of all kinds can be auctioned off to anyone who meets the reserve price. While eBay gives you access to a large audience of prospective buyers, as with classified ads and other websites, there are time-wasters out there and a successful bid doesn't always mean a successful sale. 
In theory, auctions are a good way of getting the best price for your car but there are auction listing fees to pay and further fees based on the eventual sale price of the vehicle.   
Auto Express has partnered with Motorway to bring you a fast and easy way to sell your car. Other car selling options are available but we think you'll like the simple, fast service Motorway offers and our research suggests you should get a good price. Sell you car here...