2015 facelift attempts to boost Toyota Avensis' appeal
Toyota has revealed images of its 2015 makeover of the Avensis large family car, with a front-end redesign and new engines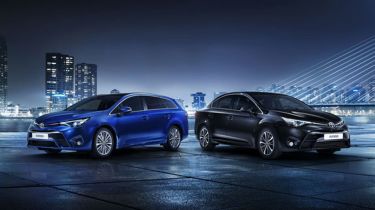 Toyota has unveiled its new Avensis in saloon and estate guise. The facelifted cars are due to debut at next month's Geneva Motor Show. The revised Avensis gets a front-end redesign, as well as an overhaul of the engine range and a fresher cabin with new Safety Sense active safety technology. It's likely to go on sale in UK sometime in June.
The updated Ford Mondeo rival gets a redesigned front end with the brand's new family face – as previously seen on the Yaris and Aygo models. That means a more aggressive front bumper with larger air intakes, plus a slim top grille design reminiscent of the current Auris. There are also more angular headlamps with integrated daytime running lights.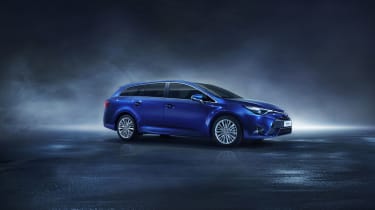 Toyota has yet to reveal the rear end of the Avensis, but we can expect a reworked bumper and tailgate, plus fresh tail-lights. Beefier side skirts also give it a more athletic stance, but the side profile remains largely the same as the previous car, launched back in 2009.
The company says the British-built Avensis will get a new engine range that promises "both performance and efficiency". That will mean changes to the ageing 1.8-litre (petrol), 2.0 (diesel) and 2.2-litre (diesel) units, which are set to be replaced by BMW-sourced EU6 compliant powertrains and possibily all-new turbocharged petrol variants. A plug-in hybrid powertrain could be on the cards too, since the Auris and Yaris both already offer it.
The Toyota is claiming "innovations in comfort and safety" too, so an updated interior will feature, with fresher materials and a more upmarket dash layout likely. The Avensis will also be the first model to get Toyota's Safety Sense collision avoidance kit and active safety technology.
Now check-out our pick of the top 10 family cars to buy now...