10. Toyota Yaris Hybrid
Best green cars – Unconvinced that small hybrid cars can work? The Toyota Yaris Hybrid will change your mind.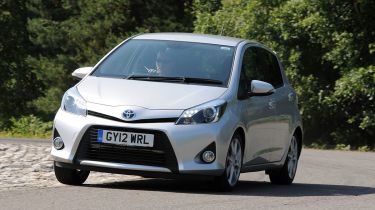 The Yaris Hybrid supermini is the smallest hybrid Toyota makes and second only to the Prius Plug-In in the green stakes, with CO2 emissions as low as 79g/km – although our top-spec car manages 85g/km. 
The great figures are achieved by hooking up the 1.5-litre petrol engine to a compact electric motor. Together, they produce 98bhp and can launch the Yaris Hybrid from 0-62mph in 11.8 seconds.