TVR partners with green lithium firm for future electric cars
TVR signs agreement with Ensorcia Metals Corporation to help fund Griffith production and form "joint venture in the EV space"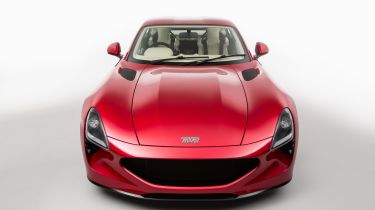 TVR has announced a partnership with a lithium mining company to help fund production of its long-awaited Griffith sports car, as well as securing battery supply for future electric car projects.
The revived British carmaker has signed a "funding and technology partnership" agreement with Ensorcia Metals Corporation, a company that specialises in environmentally efficient lithium mining and processing. Lithium is a core component of electric vehicle batteries, and the joint venture provides "significant funding" for TVR to establish electric powertrain projects. 
Les Edgar, TVR chairman, calls the deal "another milestone in our mission to future-proof our iconic British brand", stating it "has been clear for some time that EV has to be part of our future". 
"Having access to advanced EV tech including supplies of green lithium via the leading, environmentally considerate process, is a hugely important element in ensuring that TVR will become a sustainable, net-zero business", Edgar continued.  
Daniel Layton, Chairman of Ensorcia, said "along with the current model, we believe the global development of TVR EVs will be among the most exciting EVs on the market. The tight synergy and alignment between our companies and vision will ensure the supply chain for TVR's future battery requirements."
It is not yet clear what form an electric TVR would take, nor is it clear what the timeline for launching such a car would be. The firm's Griffith sports car, which will be powered by a Ford-sourced and Cosworth-tuned V8, is now not due to reach customers until the end of 2023. It was first revealed in 2017.
The new partnership has secured more funding for the Griffith project, with Ensorcia Metal's affiliate company, Ensorcia Automotive, helping with production development.
The firm's factory in Ebbw Vale, Wales, is still undergoing refurbishment, but reports suggest it is planning to move in during the first quarter of 2022. TVR has secured funding from a variety of sources to help develop and produce the Griffith, including a loan from the UK Government's Coronavirus Business Interruption scheme.
Check out our list of the best 50 British cars of all-time here...