Einride T-Pod concept previews self-driving truck for 2020
Swedish firm Einride has developed a new self-driving lorry with no room for people, only freight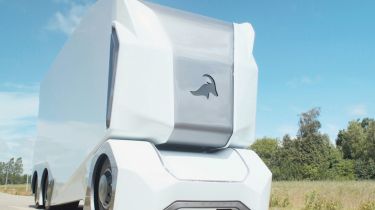 A Swedish company has revealed its vision for the future of freight, with a full-size prototype of a self-driving all-electric truck.
Called the T-Pod, it's been designed and envisioned by Einride – the latest tech startup to throw its hat into the self-driving truck ring.
• Self-driving cars: everything you need to know
With initial testing of the prototype to begin this year, the T-Pod boasts a 200kWh battery pack, which Einride says enables a 124-mile range on a single charge. It's a stubby truck, measuring approximately seven metres in length, but it boasts a cargo hold capable of fitting 15 standard pallets and can carry up to 20 tonnes in weight of freight. 
In comparison, a conventional eight wheeler 20-tonne lorry usually measures beyond nine metres.
The T-Pod manages the space saving act by doing without a cabin – there's no purpose made space for any human drivers or passengers. The truck is capable of driving itself on highways and motorways, but in urban areas a human driver can assume control via a gaming-inspired remote driving station.
Though the T-Pod is stull under development, Einride envisages that an active fleet of around 200 of its autonomous trucks will be active by 2020, running a freight route between the Swedish cities of Gothenburg and Helsingborg.  
The Swedish startup is in for some stiff competition, however. Tesla has strongly indicated that it is interested in developing electric and autonomous commercial vehicles, while Mercedes has already given us a glimpse of its self-driving freighter future with the Future Truck 2025 concept. 
What do you make of the T-Pod? Give us your comments below...