Blind spot detectors to become mandatory on lorries to protect cyclists
New regulation could see blind spot detectors become compulsory for lorries to help save the lives of cyclists and pedestrians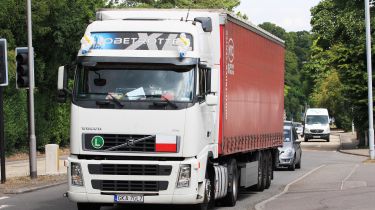 Blind spot information systems (BSIS) could become mandatory for lorries in order to help protect the lives of vulnerable road users such as cyclists and pedestrians, if a new United Nations draft regulation is adopted next year.
The regulation would see all new trucks weighing in excess of 3.5 tonnes fitted with a BSIS capable of detecting nearby cyclists or pedestrians that could be endangered by a potential turn and giving the driver a visual, audible or haptic signal when the risk of a collision increases.
The draft was approved at a UN meeting in Geneva last week and – if adopted at another session in March 2019 – will come into force in October 2019.
The regulation was drawn up in the wake of a high number cyclists and pedestrians being killed by turning lorries over the last 18 months. In the UK, figures from the Department of Transport show 231 cyclists were injured in incidents involving HGVs in 2017. Of these, 74 were seriously injured and 14 were killed.
The plan is for the regulation to be technology-neutral – meaning the industry can use any BSIS it wishes as long as it has been validated by official tests.
Antonio Erario, chairman of the United Nations Economic Commission for Europe's World Forum for the Harmonisation of Vehicle Regulations and Working Party on General Safety Provisions (GRSG), commented: "This new regulation addressing the issue of trucks' blind spots when turning will help save lives in many countries.
"In the coming weeks, the GRSG informal group will continue to work to strengthen the protection of vulnerable road users by preparing proposals to improve the driver's field of vision at the rear of the vehicle when moving backwards."
Are blind spot detectors on lorries a good idea? Let us know below...