Van safety tips: how to keep your van, its cargo and yourself safe at work
Health and safety has never been a bigger focus for UK businesses, here are some top tips for van owners and drivers
If you're using a van for work, then you need to do so safely while protecting this vital asset, keeping it secure and making sure thieves think twice about stealing it or its contents.
Owning and running a van is a full-time job. Not only do you need to keep it maintained and working properly on the road, but it needs to be safe and secure so that your business can keep moving. After all, time is money, and the more time spent inconvenienced by problems and hassle can mean less money coming in. It all means that van safety and security should also be a priority for every owner and driver.
Van safety
Safety comes in many forms when it comes to vans. All new vans now come with kit such as stability control, airbags and ABS, while the very latest models are often available with advanced car-sourced safety kit such as auto city braking, lane keeping assist and adaptive cruise control. But while van manufacturers are doing their bit to ensure modern van safety is up to the same standard as cars, there's plenty that van owners can still do to ensure that these safety systems work at their best.
• Van finance: get the best deal for your new van
Too often drivers don't fully understand the safety features on their vehicle. It's always worth understanding how any additional equipment works so that you can get the maximum benefit from it. That goes for more advanced technology like auto city braking and lane keeping assist but also for everyday safety aids like ABS brakes and ESC stability control. Drivers should take the time to read the manual and van owners should make a point of familiarising their drivers with the safety aids on the vehicle.
Van owners should also have safety and security in mind when ordering their vehicles, spending a little extra on the correct spec van can pay dividends in the long run. You'll find that most new vans now come with a fixed bulkhead as standard, so that if any unsecured items in the back don't fly forward to injure occupants in the event of heavy braking. Not all vans come equipped with a bulkhead, but it's a useful safety feature to have if you're thinking of adding it as an option. A bulkhead also stops access to the load area via the front doors, while some vans also come with double locking that means the load area is secured separately to the passenger compartment.
Loading
Whatever the layout of your van, how you load it will determine whether it's safe to drive or not. Before you load up, the first thing you need to know is the maximum weight that your van can carry. You'll find this on the van's vehicle identity number (VIN) plate. Here you'll find the van's make, model, engine and body size, its unique VIN chassis number and the gross vehicle weight (GVW). This number is the maximum amount the van can weigh while on the move. It's not just the amount of load you can carry, it's the total of what can be carried, so you also need to factor in the weight of the driver, any passengers you might be carrying, and the fuel on board, too.
All vans that can be driven on a standard UK car driving licence are limited to a 3,500kg maximum GVW - any van that's bigger than that will need a goods vehicle qualification to drive. The majority of vans will have a GVW below this and it does mean that the very largest van models (long wheelbase and high-roof versions of large panel vans, for example) may have massive load volumes, but will only offer relatively small increases carrying capacity when it comes to GVW. They're better suited to large-yet-light items and it's possible that a smaller van will actually be able to carry a larger payload.
When loading up a van, it's important to have a level load, so that neither the front or rear axle is overloaded. This can cause the van to have an uneven centre of gravity, which will affect the van's handling and cause it to be unstable. The heaviest items you are carrying should be loaded the lowest and between the front and rear axles, as well as along the centre line of the van. If this isn't possible, then heavier items should be balanced out on either side of the van for even loading.
Secure loads
You really need to ensure nothing in the load area will move while you're driving. Everything that's carried in the back of a van should be securely tied down, and modern vans feature plenty of load securing options inside.
Lashing eyes that are located on hard points of the load floor will offer the best security for any load, and a good set of ratchet straps will be able to strap down most items better than by using rope. Even if you're carrying a large pallet, it's advisable to get this strapped down as securely as possible, because whether your van has a lining or not, they will still be liable to move once you're mobile. A moving load can potentially damage the cargo, the vehicle or even cause an accident by causing the van to become unstable.
Bungee cords can also be used to strap in items, as long as it doesn't matter if your load moves around a little, while the exposed crossmembers that support the van's body panels will feature plenty of eyelets and holes which can be used to hook rope or any other securing straps.
Of course, before you've strapped everything in, it's a good idea to ensure your goods are protected against damage. Plastic bubble wrap, gaffer tape and padding is all good to use, while old towels and sheets help to keep things clean and stop items from scratching the van's load area when you're driving, as well as when you're loading and unloading.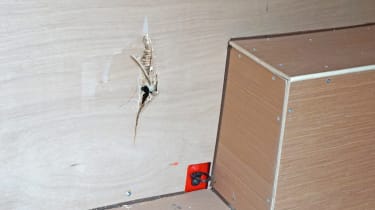 If an unsecured load should move around in the back of the van, then it could cause damage to the inside panels of the van, which can look unsightly. If you opt to upgrade your van with a plyboard lining, then the damage will be inflicted on that instead (above), and it will be a far easier and cheaper repair to carry out.
Driving
Once you've loaded your van up, you're ready to go. To help ensure that no items move around in the load area, take it slow and steady, with smooth use of the throttle, brakes and steering. Sharp movements can upset your load, and if items are particularly heavy, they could dislodge from their retaining straps.
• Van insurance: why the cheapest deal isn't always the best
If you hear any thumps or bumps from the load area while driving, it's best to pull over in a safe place so that you can check on your load - you wouldn't want to reach your destination for all of your items to come falling out of the load area as soon as you open a door. Thanks to the high driving position of a van, it's easier to look ahead and anticipate what's coming up the road, which will help you to drive more smoothly.
And remember, vans have different speed limits to cars, depending on what kind of road you're driving on. As a commercial vehicle user, you may be stopped by the police or Driver and Vehicle Standards Agency (DVSA) officer who will check that you are driving within the law. Failure to do so could result in a £300 fine and points on your licence.
Security
Modern vans come with the usual range of alarms and immobilisers that you'll find on cars, but you can take further steps to ensure your van is safe and secure. Physical security can include a steering wheel lock to prevent van theft, while lock shields can prevent break-ins, locking wheel bolts will stop alloy wheel theft and a cat guard can help with potential catalytic converter theft from those vans and pick-ups that allow easy access under the chassis.
A tracking device can be added - although this can be expensive and you will face monthly fees to maintain the tracking ability, it should help to reduce your insurance premiums. The ubiquitous 'No Tools Kept In This Vehicle Overnight' sticker might seem like a pointless exercise, but this could be a cheap deterrent that will see any potential thief thinking twice before breaking into your van.
Another top safety tip is to park somewhere that's busy and well lit, which will give less of an opportunity for thieves to break in or steal your van without being seen. If that's not an option, how about off-street parking? Not many garages are big enough to fit a van, but if you have a driveway, you could invest in a set of iron gates or a drop-pole that can make life harder for thieves.
• Van running costs: how to save
Security lighting is always a useful addition, while the latest CCTV cameras come with infra-red activation that will fire them up if they detect any motion. You can hook up a camera to your local wifi network to automatically record images, too. While this may not prevent the theft of a vehicle, it could help police with their enquiries should the worst happen.
And of course, one aspect of van theft that you can put under your control is to put you van's keys somewhere out of sight. Sometimes the biggest security flaw can be in your own home, and if you have your keys sitting on a rack by the back door, that will make for easy pickings for a thief that's determined to be off with your van.
What are your top van safety tips? Let us know in the comments section...