Can I drive a van? The vans you can drive on your licence
A practical guide to which licence you need and what vans you can drive in the UK on which driving licence categories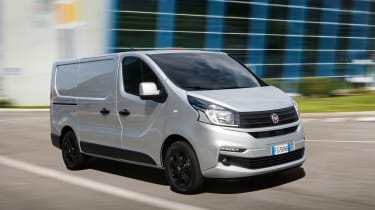 Cars are great for transporting people and shopping, but if you need to move a lot of big stuff, then you need to get a van. The likeliest time you'll need one is if you or someone you know is moving house, although you might need to drive a van at work, or even use one for a trip to the tip.
Whatever you need to use a van for, whether you're hiring a van or borrowing one from a friend, you need to know what van you can drive - because not all commercial vehicles can be driven on a standard UK driving licence. Our guide will show you exactly what you can drive, depending on your driving licence.
Licence requirements
If you've passed your driving test, then your licence will give you additional permissions over and above simply driving a car. On the front of a plastic card licence, the very bottom row of letters covers what vehicles your licence allows you to drive.
The list is repeated on the reverse with start and end dates for each category, and the small graphics give clues to each category. The current vehicle classifications were revised in November 2013, and cover the following classes.
AM - Moped
A1 - Small motorcycle
A2 - Medium motorcycle
A - Full motorcycle
B1 - Four wheeled light vehicle
B - Car
C1 - Medium sized vehicle
C - Large goods vehicle
D1 - Minibus
D - Bus
BE - Car with trailer
C1E - Medium sized vehicle with trailer
CE - Large goods vehicle with trailer
D1E - Minibus with trailer
DE - Bus with trailer
p - Moped (50cc)
q - Moped (25km/h)
f - Tractor
g - Roadroller
h - Tracked vehicle
k - Mowing machine
If you've passed your driving test, the 'B' line on your licence will have valid dates next to it, and you'll also have the same range of dates in line 'B1'. That means you can drive a four-wheeled light vehicle weighing up to 400kg, or 550kg goods vehicles. That covers those unique microcars such as those models built by Axiam and Microcar, as well as the Renault Twizy.
As for vans, the vast majority are covered by the 'B' classification, the same as cars, so you are fine to drive a basic Ford Transit, Vauxhall Vivaro or any of their contemporaries.
One crucial thing you need to be aware of is a van's Maximum Authorised Mass (MAM). It must be no more than 3,500kg (3.5 tonnes), and while smaller versions of even the biggest vans on sale in the UK come in below this limit, some of the larger versions go over it. That's when you could get into trouble, because if you drive a vehicle with a MAM of over 3.5t without a C1 licence, you could face points on your licence, a fine and even a court summons if you're caught.
Vans over 3.5 tonnes
If you have passed your car driving test, then that is the first part of the DVLA's staging process. Once you have that, you automatically have a provisional licence to drive a car or van up to 3.5t with a trailer, but if you want to drive anything larger, you need to apply for another stage in the licensing process or have passed your test before January 1997. Upgrading your licence will usually involve further training, testing and financial outlay.
If you passed your test after 1 January 1997 you will need to get a C1 licence to drive any vehicle with an MAM of over 3.5t. If you passed your car test before then, you are allowed to drive commercial vehicles up to 7.5 tonnes MAM with no extra licence, but not if you're driving one as part of your job. To do drive vehicles in the 3.5t to 7.5t MAM weight range for work, you need to take a professional Driver Certificate of Professional Competence (CPC).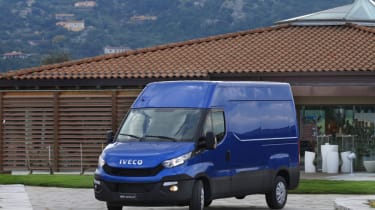 Alternatively fuelled vans
In 2019, the Department for Transport announced as part of its Road to Zero Strategy that category B driving licence holders would be allowed to drive alternativelly fuelled vans with a kerb weight of up to 4.5 tonnes. The extra weight allowance is a result of the fact hybrid and electric vans tend to weigh more than traditionally powered ones because of the heavy batteries they're fitted with.
Category B licence holders who wish to drive these vans are required to complete five hours of additional relevant training from one of the two Government-approved LGV (light goods vehicle) training providers before getting behind the wheel.
Hiring a van
If you want to hire a van, it's important to plan ahead, and take some of the previous information with you so you get the right van for the job.
First, work out what you want the van for. It might be tempting to get the largest van possible, but beware that loading it up with a number of heavy items could quickly put the van over its MAM limit, making it illegal to use. If you're stopped and your van is found to be over the limit, you will be liable for any fine or court action, not the rental company. In this instance, and if possible, it might be better to get a smaller van that can't be excessively loaded, and then do more frequent trips.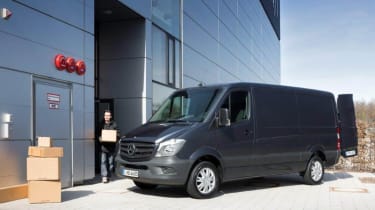 Take a look at the small print of what's covered by the hire companies' insurance. An unlimited mileage deal may work out a little more expensive, but that means you don't have to worry about paying excess mileage charges. It may also be worth paying a collision damage waiver to ensure you don't get stung by surprise charges after you've handed the van back.
Check the van over for damage inside and out before driving off. If you spot anything, then inform the hire company and get them to sign a waiver to verify that the damage was present before you took the van away.
When returning the van, leave it as you found it. Make sure the load area is at least swept clean, and make sure the cab is rid of rubbish. Check the agreement about fuel use, because if the van was full of fuel when you took it, you may be expected to refuel it, or face another charge for the fuel you have used.
Get all the latest commercial vehicle news and reviews on the Auto Express van channel...