Van security tips: how to keep your van and its contents safe
Our top tips on how to improve your van's security and stay one step ahead of the criminals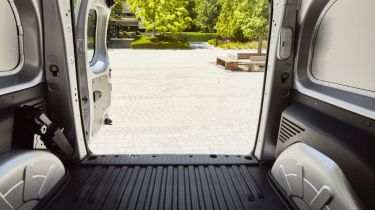 A van contains a lot of value, not just in terms of its purchase price, but also because it's the life blood of your business. If you're a small business or sole trader that relies on a van for your job, then it's extremely important to keep it secure and make it less attractive to thieves, whether they're looking to steal the van or its contents. 
While insurance will cover your costs should the worst happen, it's better that it doesn't occur in the first place. Why go through the hassle of having to replace a van or the tools and materials when some simple measures could keep them secure? Van security should be a top priority for anybody with a commercial vehicle as part of their business.
• Van insurance: how to get the best deal
You're protecting your investment, because if anything should be damaged on your van or its contents are stolen, then not only will you need to sort out an insurance claim, you'll also want to get back on the road and back to work as soon as possible. The old adage that prevention is better than cure applies here, because if you get your van security right in the first place, then your vehicle and its contents won't be at risk. Go for the right security measures, and you could even reduce your insurance costs, too.
If you're looking at van security, then you need to become familiar with the name Thatcham. The British company is a research organisation that tests all kinds of vehicle security devices, whether they are fitted to vehicles as standard, or are available on the aftermarket. Their classification system covers everything from locking wheel nuts and other physical security devices to the latest electronic trackers and alarms.
Below we've listed a number of top tips to help you to keep your van secure. From manufacturer-fitted security to sensible measures of your own that you can take to make your van less attractive to thieves, there's plenty that you can do to help with van security.
Top 10 tips for improving your van security
1. Prioritise security when choosing your van
If you're buying a new van for your business, there's a lot to consider. But while there are lots of flashy options that can draw your attention, don't let security slip down your priority list. Most modern vans offer a good range of security features, but pay attention and check the van you're looking at has the right kit as standard, because not every van will come with every security feature you want as standard. If you want a high standard of security, then an alarm and an immobiliser should be included, while deadlocks and separate locking systems for the cab and cargo area are good to have.
Even the basic configuration of your new van can have an impact on its security. Think about whether or not you want glazed rear doors - they're useful for visibility, but they can be a security risk, because they can let everyone see what's stored in the vehicle. Some vans come with a single rear door as standard, so ask yourself if you really need to load and unload from both sides of your van before ticking the option of the second side door. Most panel vans feature a solid bulkhead between the cab and load area which keeps everything out of sight, although some lower spec models and crew vans forego this with steel mesh bulkheads, or even toughened plastic in some cases.
Partnership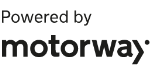 Need to sell your car?
Find your best offer from over 5,000+ dealers. It's that easy.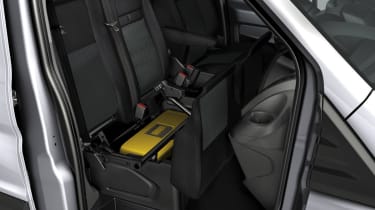 2. Modify the van to your needs
There are a few things that you can add to a van to boost its security beyond the basic spec. Plenty of firms offer a number of physical security add-ons for commercial vehicles that will suit different needs. Lockable toolboxes for valuable equipment and upgraded deadlocks or slam locks for doors are amongst the most popular aftermarket options, while a steering lock or pedal box protector will help make your van harder to drive away. 
Of course, if you have these extras, you need to use them, so you need to get into the habit of fitting them every time you park your van for a long period. If you don't use them, it could be reason enough for your insurer not to pay out on a claim.
3. Invest in the latest security technology
If you're looking at a new van, the majority will come fitted with an alarm and immobiliser as standard. These systems should be at least Thatcham Category 2 approved - that means an immobiliser is included - but you should always check that this is the case. Category 1 systems feature an immobiliser and an alarm with additional sensors to detect breaking glass or unusual vehicle movement. If you want even greater security, then you can look into a vehicle tracking device.
• Van accessories: choosing the right extras for your van
Electronic GPS trackers can vastly improve the chances of recovering your vehicle if it is stolen and have the potential to lower your insurance premiums when fitted to your van. The most advanced tracking systems use multiple systems to locate a missing vehicle, and these firms can alert the police about stolen vehicles, too. They are expensive to fit and you will have to pay a subscription to keep the system active, but are the ultimate in peace of mind.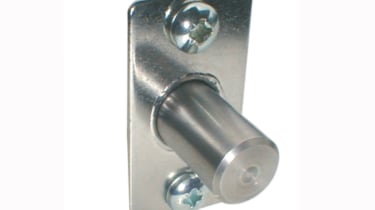 4. Affordable upgrades that will offer security
You don't have to secure your van like Fort Knox if it's going to cost as much as a bar of gold to achieve it. Indeed, there are plenty of simple and affordable measures that you can take to help boost your van's security. These pieces of kit are covered by Thatcham's Category 3 rating, so if you're looking to buy a piece of physical security, this rating means it's a solid product that should offer a hard time for thieves.
There are heavy-duty steering wheel locks and hand brake locks, you can apply a plastic window tint (this can help security because a smashed window will remain in place, rather than break up), lockable fuel filler caps and locking wheel nuts (which fall under Thatcham's Category 4 classification) are all relatively cheap ways to deter opportunistic thieves. It might seem like a cheap option, but adding stickers that warn that tools aren't left in the vehicle overnight are worth considering.
5. Don't forget the cat
It's vital to protect the contents of your van, but try not to forget that there are other parts of your van that are valuable to thieves. Catalytic converters are attractive to thieves because of the precious metals that are contained within them, and this kind of theft is on the rise as a result. Thieves simply jack up a vehicle and use cutting equipment to slice through the exhaust on either side of the cat to remove it.
Vans and high-riding pick-up trucks are particularly vulnerable to attack, because their added ground clearance means the catalytic converter is easier to get to. Thankfully, there are firms that offer anti-theft devices for catalysers, and it's well worth having one installed on your van.
6. Use your van locks
All of this security is only any good if you actually use it. It might sound obvious, but lock your van when you're leaving it, even if you're just walking from a garage forecourt to the shop to pay for fuel - opportunist thieves don't need to be asked twice if they want to get into an unlocked van. You need to check that all of the windows are shut and doors are locked every time you leave your van, and if you're leaving it for a longer period, then use all of the extra security measures that you've invested in.
• Choosing the right van for your business
7. Don't leave valuables inside your van
The obvious way to prevent valuables from being nicked from your van is to not leave them there in the first place. If you can take all of your tools out of the van when you're leaving it, then all the better. And don't forget your other devices, such as portable sat-nav, smartphone or tablet computer that you might keep in the cab. It might be tempting to keep these in a lockable glove compartment, but these aren't necessarily as secure as you might expect. If emptying your van every night isn't practical, then you need to ensure your kit is locked away properly and at least out of sight.
8. Think about where you park
Thieves don't like to be disturbed, so the best place to park your van is in a busy, well lit area where they can't do their worst. Areas covered by CCTV are also worth parking in - cameras may not cover your vehicle, but they can monitor the comings and goings of people in the area. If you park your van at home or at work, you can improve security by adding motion-detecting security lights, lockable gates or rising bollards, while the latest CCTV cameras can be connected to your local wi-fi network to stream images directly to your computer - they can even be set to activate and record footage when their sensors detect movement.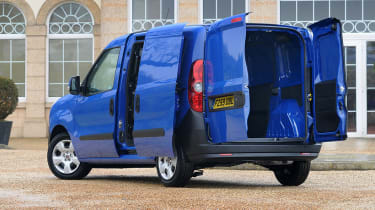 9. Keep a record of what's in your van
It's useful to keep an inventory of what you actually carry in your van, should the worst happen. And if you have expensive items in your van, then it would be worthwhile retaining the receipts in case you need to make an insurance claim and need to prove the item was included. It's also worth marking valuable equipment using a watermark-style system that registers valuables on a central database. This means that if your kit is recovered, then it's more likely to be returned to you.
• Which vans can you drive on your licence?
10. Make your staff aware of van security
If you're a fleet manager, then the security of your fleet is only as strong as the weakest link, so ensure that all staff stick to the same routines when it comes to van security. If you don't emphasise the importance of van security, then all the devices in the world will be no use whatsoever. If other people will be using your van, make sure they are aware of the security devices that are fitted to your van, and that they take the same precautions that you would. And of course, make sure that they are actually insured to drive your van in the first place.
Find out how to get the best van insurance deal here