Final British-built Vauxhall Astra rolls off Ellesmere Port production line
Vauxhall's Wirral-based factory has built its last Astra, as the facility prepares for an EV future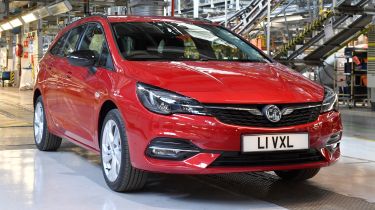 It's the end of an era at Vauxhall's Ellesmere Port plant, with the final Astra rolling off the production line on 6 April 2022.
Vauxhall began making Astra models at the Wirral-based facility on 16 November 1981, having previously imported rebadged versions of the Opel Kadett. From then until now, some four million Astras spanning seven generations have been built at Ellesmere Port. 
The final example to emerge from the factory was a Sports Tourer SRi Nav with a 1.2-litre engine and a manual gearbox. The last ever British-built Astra is finished in Hot Red.
Current and former plant workers gathered to celebrate the occasion, which coincides with Ellesmere Port's 60th anniversary. The fate of the plant had been a cause for concern with the production of the Astra L shifting exclusively to Opel's Rüsselsheim, Germany factory, but last year its future was secured with parent company Stellantis announcing an electric vehicle transformation for the site.
Now Astra K production is at an end, the production line will undergo a £100 million retooling, partly funded by the UK government. Once complete in early 2023, Ellesmere Port will be a production centre for Stellantis electric vans and their MPV derivatives.
The Vauxhall Combo-e, Peugeot e-Partner and Citroen e-Berlingo will all be built there, both for the UK and continental European markets. Stellantis aims to halve the factory's CO2 emissions by 2030, and make the site carbon neutral by 2038.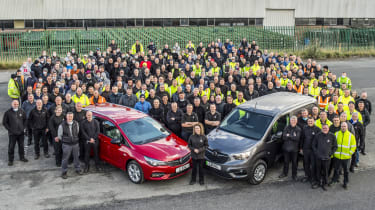 The plant first opened in 1962 to produce the Vauxhall Viva, later building the Chevette and - of course - the Astra. In its six decades of operation, 5.2 million cars have been built there. 
Paul Willcox, Managing Director, Vauxhall & Senior Vice-President, Stellantis, had this to say about the plant's changing focus: "Over the last 60 years, Ellesmere Port has become one of the great British car plants, producing some of the most popular cars on the roads across generations. 
"With one era closing, we're now looking forward to an all-new electric era at Ellesmere, with the site becoming the first Stellantis plant to produce solely electric vehicles. Vauxhall is fast moving towards an electric future and I'm pleased to see the next-generation of Vauxhall electric vehicles made in Britain.
Click here to read our review of the 2022 Vauxhall Astra...