Green Award: Vauxhall Ampera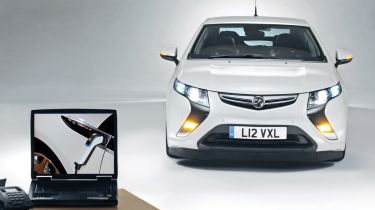 Why it won...
Drive the Vauxhall Ampera, and you'll take a journey into the future. The world's first range-extending electric vehicle aims to offer the eco benefits of a battery-powered car with the long-distance flexibility of a regular petrol or diesel model.
The idea is relatively simple. A large lithium-ion battery pack powers the 148bhp electric motor for around 40 miles or so, before a 1.4-litre petrol generator kicks in to give the car an extra 300 miles of range. Unlike hybrid models, the sleekly styled Ampera is always powered by the electric motor, so you benefit from seamless and near-silent acceleration at all times. Better still are the CO2 emissions of just 27g/km and claimed fuel returns of 235mpg.
As with all new technologies, there are one or two compromises – although none is a deal breaker. To get the best out of the Vauxhall, you need to plug it into the mains at least once a day – an overnight charge takes around six hours and costs just £1 – while even with the Government's £5,000 plug-in grant, you'll still need to find £30,000 to get behind the wheel.
But it's what the Vauxhall, and its sister car the Chevrolet Volt, represent for the future that should make you sit up and take note. As production costs tumble and technology improves, range-extending models could become the staple of every maker's line-up. Vauxhall, Chevrolet and parent firm General Motors will always be the pioneers of this remarkable technology – and the Ampera gets our vote here as Vauxhall's dealer network is much bigger than Chevrolet's.