Next Vauxhall Ampera to get shorter range
The next-generation Ampera could feature a smaller battery and shorter range in a bid to drive down the price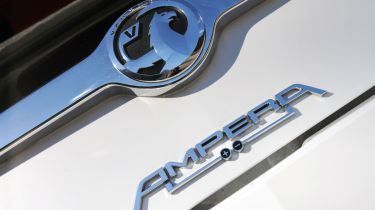 Following stuttering sales in Europe, GM is planning a smaller battery pack and a shorter electric-only range for the next-generation Vauxhall Ampera.
Costing £28,995 after the Government's £5000 EV grant, Vauxhall is currently losing money on every Ampera it sells, but will look to reverse that trend when a new model arrives in three to four-years' time.
"The Ampera has one of the highest customer satisfaction ratings of any car, but it's simply too expensive," Steve Girsky, Vice Chairman of GM and interim president of GM Europe, admitted. "If you want to make money it's not about the cleverest technology, but who can deliver fuel economy at a lower cost."
Currently the Ampera is capable of travelling up to 50 miles on battery power, which is key to its 235.4mpg fuel economy. But the battery pack alone costs more than £12,000 to produce.
"In the coming years I don't think you will need 100km [62 miles] of electric range," revealed Thomas Sedran, GM's Vice President of Strategy and Operations. "Around 30 to 50km [18 to 30 miles] should be enough to get you in and out of town and after that you still have the range-extender engine to help."