Vauxhall Ampera - £8k - £11k: Best cheap fuel efficient cars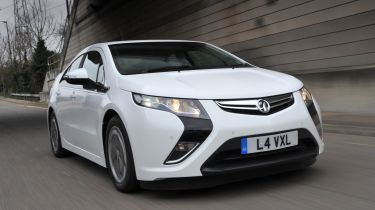 We found: Ampera Electron (12-reg/84k)Price new: £38,995 Now: £9,995Engine: 1.4-litre 4cyl petrol/electric, 148bhp Economy: 235mpgCO2/tax: 27g/km/£0 Euro NCAP: N/A
Slow sales saw the Ampera disappear from Vauxhall showrooms last year. Yet the pioneering plug-in hybrid deserved better, as its blend of daring looks, penny-pinching running costs and composed driving dynamics make it a fine alternative to more mainstream eco models.
• Toyota Prius plug-in vs Vauxhall Ampera
Under the bonnet lies a 1.4-litre petrol engine, but this is only used to keep the batteries charged. So, the wheels are driven by pure electricity alone, meaning smooth and virtually silent acceleration. Plug the car into the mains, and you get a range of around 30 miles, which could save you thousands on your commute.
Best cheap fuel efficient cars
• Fiat Panda• Skoda Fabia• Renault Twizy• Toyota Prius• VW Golf BlueMotion• Vauxhall Ampera• Suzuki SX4 S-Cross• Audi A6• Lexus RX• Porsche Panamera