Vauxhall celebrates five million cars built at Ellesmere Port
The five millionth car will roll off the Cheshire production line at lunchtime today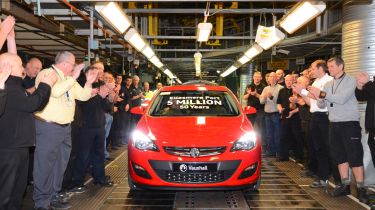 Vauxhall celebrates a momentous achievement today, as its five millionth model rolls off the production line at the famous Ellesmere Port factory.
Over the past 50 years, more than one million Viva models, 264,000 Chevettes and 3.7 million Astras have rolled off the line near Liverpool. The five millionth car – a Vauxhall Astra hatchback – was signed off at lunchtime today.
To mark the occasion, Vauxhall has released a video showing various models from Ellesmere Port's illustrious history, tearing around the plant at the hands of professional stunt driver Paul Swift.
The man, dubbed 'Ellesmere Pete' can be seen testing everything from an original Vauxhall Viva, to a 1975 Firenza HP Droopsnoot – pulling handbrake turns and smokey burnouts around the factory after hours. The film also shows a Chevette HS2300, a Mk1 Astra GTE, Mk3 Astra GSI and modern-day Astra CDTi.
News of the five million-car landmark will act as an extra boost for Ellesmere Port's 1,800 workers, a team that helps build a new car every two minutes. The factory will take on an additional 300 staff next month as part of a £140 million investment by GM, securing the plant's future into the middle of next decade.
The existing Vauxhall Astra went on sale in 2009, and is currently the fifth best selling car of 2014 – with more than 54,000 sold year-to-date. It looks set to finish the year on a high, ahead of an all-new model due towards the middle of 2015.
Both the five-door hatchback and more practical Sports Tourer Estate models are built at Ellesmere Port, with 76 per cent of total volume going to export.