Compact Family Car of the Year 2016: Vauxhall Astra
The Vauxhall Astra is the 2016 Auto Express Compact Family Car of the Year, with the MINI Clubman and SEAT Leon commended
After a few stagnant years, Vauxhall has reinvented its Astra compact family hatch – and it needed to, as the class was being left behind by the SEAT Leon for style, the Volkswagen Golf for quality and the Ford Focus for handling fun. But the British brand has come back with all guns blazing to fight off the competition, adding plenty of real-world appeal and futuristic tech to claim our crown.
The Astra takes on its rivals in all of their showcase areas, and puts up a compelling performance across the board.
A compact hatchback has to do everything – ferry the family around, offer enough space in the cabin and boot to cover day-to-day practicality, and serve up strong enough pace for an interesting drive. Vauxhall's family five-door does just that, pumping out more power from the most popular 1.6-litre turbodiesel than its rivals, for less cash.
Sharp angles and attractive proportions mean the Astra is easy on the eye, plus with features like LED headlights, Apple CarPlay and Vauxhall's OnStar concierge service all available on mid-level trims such as the sportier SRi model, there's lots to like.
OnStar can turn your car into a Wi-Fi hotspot, download destinations directly to your sat-nav, or even call the emergency services in a crash, telling them how many people are on board. It's clever tech that not only makes your life easier, but could also end up saving it, too.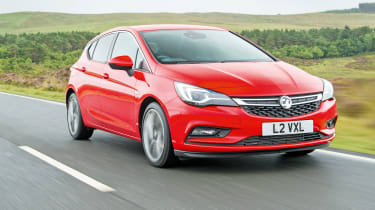 There's lots more kit for your cash – in fact, across the board the Astra costs less than its predecessor while offering more.
Flexible engines and a nicely balanced chassis mean the car delivers easily accessible performance and taut handling when you want it, but plenty of refinement and comfort when you don't.
Vauxhall opted for a simple yet effective rear-suspension design for its latest Astra that means you don't have to sacrifice space inside. There's lots of room in the rear for passengers, while a big boot is a bonus. Hi-tech safety features helped the Astra earn five Euro NCAP stars, which will give peace of mind, too.
Our choice
Vauxhall Astra 1.6 CDTi 136 SRi Nav (£21,480)
SRi models get OnStar as standard, while upgrading to SRi Nav spec is worthwhile. With the 134bhp 1.6-litre diesel, the Astra is extremely well priced against its rivals, plus it's faster and gets just as much kit. The step up in quality compared to its predecessor is palpable, too.
Commended
MINI Clubman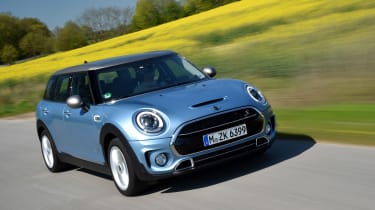 It might not quite be a hatchback, but with a similar amount of space in an alternative bodystyle, the Clubman offers exactly the same qualities as the Astra in a more individual package. While it's pricey, the MINI is classy inside, and those rear barn doors offer surprising flexibility. Plus, it's superb fun to drive.
SEAT Leon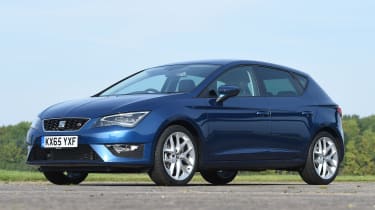 Last year's winner has been dethroned, but the SEAT Leon is still a great family car. Available in three or five-door form (unlike the Astra), it lets you prioritise style or practicality. But with plenty of premium features, a strong engine range and an entertaining chassis, the Leon doesn't compromise what you want from a compact hatch.
Auto Express New Car Awards 2016
For complete, in-depth coverage of the New Car Awards 2016, buy your collector's edition copy of the Auto Express magazine now or click here to subscribe...