Supermini of the Year 2016: Volkswagen Polo
The Volkswagen Polo is the 2016 Auto Express Supermini of the Year, with the Skoda Fabia and Suzuki Baleno commended
A 2015 facelift kept the Volkswagen Polo looking fresh and boosted its charm, and this year the German brand has added even more efficient engine options that see the supermini once again edge ahead of its rivals.
The Polo now shares VW's 1.0-litre three-cylinder petrol engine with the smaller up! city car, but there's also a more potent turbo version available. Even the lower-powered model is sufficient, thrumming along at motorway speeds with plenty of refinement. However, if you need a bit more oomph, the punchy and efficient 1.2 TSI engine is the one to go for.
• Best superminis on sale right now
Volkswagen released a sporty new R-Line model this year to address one of the Polo's biggest downfalls, which ensured the supermini can no longer be accused of looking a little safe or lacking style.
The R-Line bodykit and bigger wheels add some extra interest to the car's solid surfaces and sharp creases. It looks like a smaller Golf – which is no bad thing – and that's reinforced from the moment you shut the door with a solid thunk. The cabin is very well built and feels genuinely upmarket.
There's a wider range of petrol and diesel engines, with a larger, more powerful 1.4 TSI available. Not only is this hotter, but it also features clever tech like cylinder deactivation to improve efficiency when cruising. It shows how big-car innovations have filtered down to make superminis even easier to live with, and VW is at the head of the class. There's a 1.4 TDI with two different outputs for those covering big miles, too.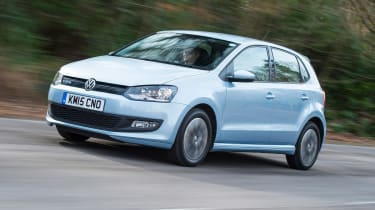 If you're after an eco champion, VW's high-efficiency BlueMotion technology has been applied to the already frugal 1.0 TSI, with impressive claimed fuel economy of 68.9mpg and 94g/km CO2 emissions.
With plenty of trim levels to match the line-up under the bonnet, there's an equipment spec to suit all budgets. And while the Polo is pricier than rivals like the Ford Fiesta, it's certainly worth the extra outlay.
Our choice
Volkswagen Polo BlueMotion 5dr (£15,635)
Latest ultra-efficient BlueMotion ditches diesel in favour of sweet and eager 94bhp turbocharged three-cylinder petrol engine that claims to emit just 94g/km of CO2. Aerodynamic additions provide a sleeker look, while air-con, cruise control and touchscreen infotainment are standard. This is a supermini that's fun and frugal. 
Commended 
Skoda Fabia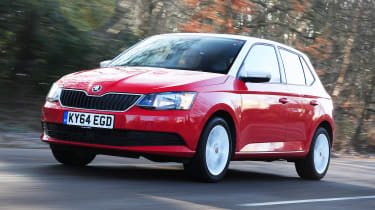 Mixing the budget focus of the Suzuki Baleno with much more quality, the Skoda Fabia is a solid superimini. As it's a stablemate of the Volkwagen Polo, it has a similar range of engines and is great to drive. Yet while it boasts a bigger boot than its sibling, it can't match the Polo's panache.
Suzuki Baleno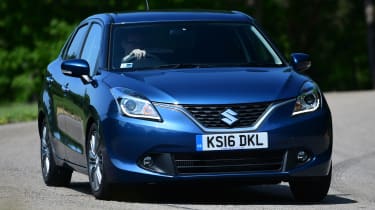 At just £13,999, the top-spec Suzuki Baleno SZ-5 features adaptive cruise, autonomous braking, sat-nav, DAB radio, Bluetooth and keyless entry and go as standard. While it isn't the most stylish supermini on sale, it's very practical and efficient, which is why it deserves its commendation here.
Auto Express New Car Awards 2016 
For complete, in-depth coverage of the New Car Awards 2016, buy your collector's edition copy of the AutoExpress magazine now or click here to subscribe...