Green Car of the Year 2016: Toyota Prius
The Toyota Prius is the 2016 Auto Express Green Car of the Year, with the BMW i3 and Kia Niro commended
If there's one firm that knows a thing or two about building hybrids, it's Toyota. The pioneering Prius is now into its fourth generation, and nearly 20 years on from the original model, it's more efficient and user-friendly than ever, which means it's a deserving recipient of our Green Award.
The latest version is also a car that has embraced its eco sensibilities, thanks to a new look that shouts green machine from every angle. Of course, it won't be to all tastes, but the low, narrow nose, rising waistline, flared wheelarches and chopped-off tail are a refreshing change from the bland previous-generation Prius.
It's equally hi-tech inside, with gloss-white trim and a two-tier central dashboard that has a raft of eco-driving displays in the top section, as well as a large central touchscreen within easy reach.
Press the start button, and you're greeted by the usual chime from the car that tells you it's ready to go, then simply put it in drive and let the petrol/electric drivetrain decide which form of power is best. And that's the best thing about the Prius: as it's so user-friendly and easy to drive, it demands no compromises.
You can travel in whisper-quiet EV mode, but the transition to combined power is seamless and the petrol engine is hushed, even when you're using its full potential. Elsewhere, the on-board electronics manage energy flow between the wheels, engine and battery.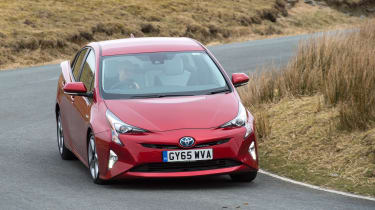 • Best electric cars on the market
The low-slung driving position takes a bit of getting used to, but it gives a clue to the Toyota's new-found cornering ability. The batteries are mounted low to keep the centre of gravity down, while direct steering and a sharp chassis make it surprisingly entertaining.
What's more, as the Prius is packaged around its hybrid system, no space has been sacrificed, while the near-silent running will be a revelation to everybody on board. 
Our choice
Toyota Prius Business Edition Plus (£25,595)
All Prius models are powered by the same petrol/electric powerplant, so your choices come down to price and kit. The well equipped Business Edition Plus is great value, but make sure you tick the box for 15-inch wheels, as they lower emissions from 76 to 70g/km. 
Commended
BMW i3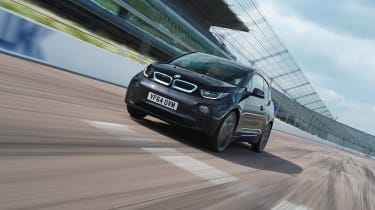 BMW's electric i3 city car embraces the very definition of hi-tech with its stand-out looks and advanced construction. There's generous use of carbon fibre to help keep the car's weight down, and if range anxiety still prevents you from buying a full EV, the range extender version has a motorcycle engine that gives you some added peace of mind.
Kia Niro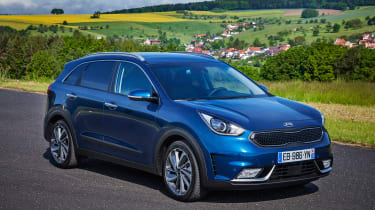 The Niro is the new kid on the hybrid block, and it's a good first effort from Kia. It's primarily sold on its family friendly qualities, but its petrol/electric drivetrain claims 74.3mpg, and the SUV looks and practical cabin mean it's a great alternative to the Prius.
Auto Express New Car Awards 2016 
For complete, in-depth coverage of the New Car Awards 2016, buy your collector's edition copy of the Auto Express magazine now or click here to subscribe...