Car Advertising Campaign of the Year 2016: Peugeot 308
Peugeot's 'Confidence Built In' advertising campaign for the 308 won the online vote to take the 2016 award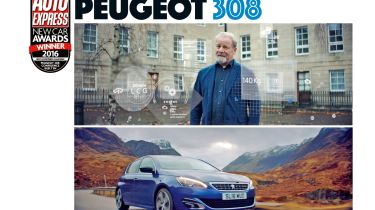 Users of the autoexpress.co.uk website were asked to vote for their favourite car ads from the past 12 months. This vote decided the top three, from which our panel of experts picked a winner. They chose Peugeot's 'Confidence Built In' campaign for the 308, created by the firm's UK division.
The ad opens with a top-spec 308 GT-Line being driven on location within the stunning scenery of Glencoe National Park in central Scotland, backed by an equally dramatic orchestral score. But then the action stops, and we cut to Scottish actor Peter Mullan, who casts a cynical eye over what looks like a typical glossy car ad.
He then goes on to dissect the ad further, highlighting the facts and figures, and how they're displayed in a nice font, and then wonders what your friends and family will think of your choice. Next, we cut to yet more dramatic driving shots interspersed with a few close-ups of the 308's tech highlights, such as lane departure, sat-nav and strobing indicators. Then Mullan signs off with the line: "Remember, you buy the image, but you fall in love with the detail."
The TV campaign was backed up by radio, press and outdoor adverts, plus a social media campaign, while buyers were also encouraged to take a 48-hour test drive to get familiar with the 308.
Auto Express New Car Awards 2016
For complete, in-depth coverage of the New Car Awards 2016, buy your collector's edition copy of the Auto Express magazine now or click here to subscribe...