Hall of Fame 2016: Mike Manley
Head of Jeep Mike Manley, takes his place in the Auto Express Hall of Fame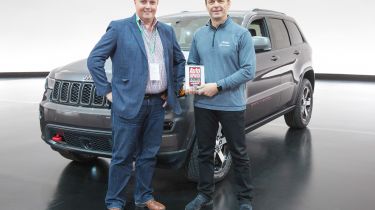 Jeep boss Mike Manley topped the 2016 Auto Express Brit List and wins a place in the Auto Express Hall of Fame. Manley was appointed to run Jeep back in 2009 when the company was selling 320,000 cars a year. Since then, the boy from Bedfordshire has transformed the company's line-up and seen sales rocket to 1.23 million last year, with a target of 1.9 million for 2018. With more models, including a Nissan Qashqai-sized rival, due later this year, we wouldn't bet against Manley and his team smashing that target by some margin.
Manley's success hasn't gone unnoticed at Jeep's parent company FCA, with boss Sergio Marchionne giving the Brit the extra responsibility of another iconic US brand, RAM, as well as asking him to run FCA in the Asia-Pacific Region.
Manley takes it all in his laid-back stride. "Each time Sergio [Marchionne] has asked me to take on something more, I look at my team and make sure they're ready to take on more," he told us. "It's the only way you can do it." We were invited to FCA headquarters in Auburn Hills, Michigan, to present Manley with his Hall of Fame Award, where he told us: "There are many outstanding British men and women working in the auto industry, so to be included in that group is a true privilege and very humbling.
"Anybody who leads a team of people knows results aren't delivered by an individual, but by a team – and for me it's been an honour working with a group of people who really see the world differently and who are very determined to leave their mark on it."
Auto Express: Hall of Fame
Auto Express New Car Awards 2016 
For complete, in-depth coverage of the New Car Awards 2016, buy your collector's edition copy of the Auto Express magazine now or click here to subscribe...