Ian Robertson
BMW board member inducted into the Auto Express Hall of Fame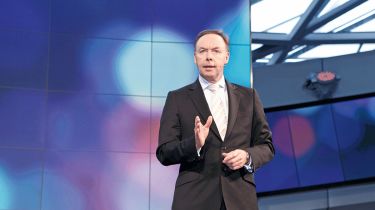 This year's entrant into the Auto Express Hall of Fame not only topped the 2013 Auto Express Brit List, he's also the only Brit to sit on the main board of one of the most famous and successful car companies in the world – BMW.
Like so many top Brits, Ian Robertson began his career at Longbridge with Rover, taking in Land Rover before the company was bought by BMW.
His first overseas posting was to run the German marque's operation in South Africa, until he was called back to Europe, initially to head up Rolls-Royce as chairman and chief exec, then joining the BMW main board with responsibility for sales and marketing.
The UK plays a big part in BMW's world, no doubt with a gentle nudge from Robertson. As well as keeping a watchful eye on manufacturing at BMW's Hams Hall engine plant and the MINI factory in Oxford, he played a key role in BMW's successful sponsorship of the London 2012 Olympics.
And 2013 is set to be an even bigger year for Robertson and BMW with the launch of BMW i – the brand's future mobility programme. It includes two stunning new electric cars: the i3 hatch and i8 supercar.
BMW i is about more than just the cars – it's about mobile solutions that include bikes, charging points and apps. And Robertson has been championing a new way of selling them, too, through bespoke BMW i showrooms. The first one is already open in, yes, you guessed it, London.
At 55 years of age, Robertson's career is still on the up – he's set to influence the cars we drive for many years to come yet.