Porsche Boxster
The new Porsche Boxster is so good it makes you question why anyone would every buy a 911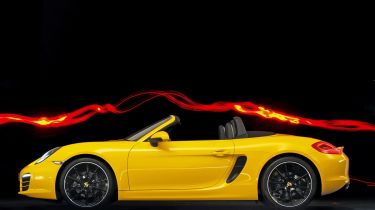 Faced with the near-impossible task of improving on the outgoing Boxster, Porsche's engineers have come up trumps and produced the most desirable, capable and enjoyable roadster that money can buy.
The new Boxster reeks of quality – from the tightness of the shut lines in its bodywork to the precise operation of its fabric hood. While others have moved on to folding hard-tops, Porsche has stuck with traditional fabric – and it reaps the rewards.
The soft-top doesn't compromise the car's slick shape, and the multi-layer design provides superb insulation from noise and draughts. Best of all, it takes just a few moments to fold away.
Dropping the hood allows you to better savour the sound of the charismatic flat-six, yet you won't be blown around – so you can focus on the driving experience, which is brilliant.
The basic 2.7-litre model and potent 3.4-litre S both have bags of performance, while the talented chassis, accurate steering and progressive brakes only add to the package.
In many ways, Porsche has done itself few favours with the new Boxster. It's so good that you question the need to buy the pricier flagship 911. But what's bad news for Porsche is great news for enthusiasts.
OUR CHOICE: Boxster (£38,237) Less 
is sometimes more, and that's the case with the Boxster. Yes, the 3.4-litre S is faster, but the 2.7-litre version is every bit as sweet – and more affordable.
Commended
We love the F-Type for so many reasons – not least the way it looks and sounds. Jaguar has kept its promise to provide a Porsche-rivalling driving experience, but the F-Type is priced to tackle the 911 rather than the more accessible Boxster.
The Mazda MX-5 used to win this trophy with such monotony we once wondered if we should stop handing it out. The current car is as appealing as ever, and hasn't strayed from the original formula of simple, affordable fun.