SEAT Leon
The most coveted accolade in the world of motoring goes to the SEAT Leon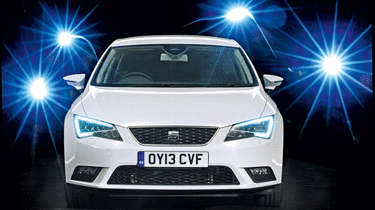 After years of watching its Volkswagen and Skoda sister brands hog the prizes, SEAT has 
landed the biggest of them all thanks to the new SEAT Leon.
The Auto Express Car of the Year has to be a class leader in its own right, so any model capable of putting the combined might of the BMW 1 Series, Skoda Octavia and VW Golf in the shade was always going to be in with a good shout when it came to the big one.
The new Leon takes the best elements of its VW Group stablemates and improves on them. This award-winning recipe combines the space and interior quality of the Golf with the affordability and solidity of the Octavia. Add SEAT's typically sporty handling and a healthy slug of Latin styling flair, and you have a compact family car to trump them all.
Want something practical and frugal? SEAT has 
the answer. Want to go fast and look good? Look no further. From fuel miser to full-on hot hatch, there's a Leon catering to every taste, and they all come with attractive price tags and plenty of kit.
Such a strong blend of talents makes this car the best all-rounder in the compact family class. Winning Car of the Year can be a burden, because it can be hard to live up to future expectations, but SEAT should have few worries. With the sleek, three-door Leon SC model now available and the ST estate waiting in the wings, this won't be a one-hit wonder.