Range Rover Evoque
The Range Rover Evoque is one of the most striking cars on the road – but it's also more than just a pretty face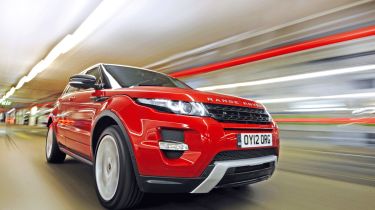 Fashion is a funny thing. Last year's hot property can very often find itself relegated to the bargain bin 12 months down the line – but that's not been an issue for the Range Rover Evoque.
The car that spearheaded the British brand's resurgence three years ago has now racked up a trio of Best Compact SUV wins at our New Car Awards, turning the old theory about fashions coming and going on its head.
The Evoque's lasting appeal is down to the fact that its talents run more than skin deep. Under the striking body and desirable badge lies a very capable car. Whether you want a low-CO2 2WD version aimed at company car drivers, or a powerful 4WD that can cope with very tough off-road duties, there's an Evoque for you.
A wide range of personalisation options, a reasonably practical interior and a highly engaging driving experience complete the picture. It's become a familiar sight on the UK's roads, but unlike many modern cars, it can still create a stir.
Onlookers swivel their heads when they see an Evoque, and its tall body, distinctive cabin design and slim windows create a unique atmosphere inside. It's not exactly cheap or frugal, but the Evoque's star shines as brightly as ever and doesn't look like it's going to fade any time soon.
If anything, the recent arrival of the flagship Range Rover and dynamic Range Rover Sport has only bolstered the brand's credentials.
OUR CHOICE: 2.2 eD4 Pure (£29,200) Company car buyers will appreciate the efficiency and value provided by this brilliant model – it has an official CO2 output figure of just 133g/km.
Commended
Great to drive, affordable to run and easy to live with – that's the BMW X3 in a nutshell. There are more exciting options, but this is the pragmatic choice at the top end of the class.
Don't be fooled by the budget price and unfamiliar badge: the Dacia Duster is 
a genuine contender. It looks great, comes with proven mechanicals
 and a spacious cabin, while the ownership experience is hassle-free.